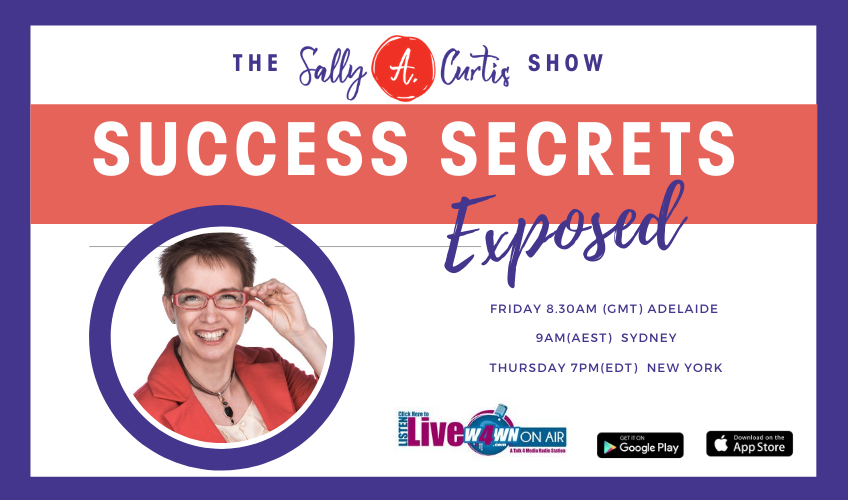 Sally A Curtis – Success Secrets Exposed
Sally A Curtis – Success Secrets Exposed is a fun, inspiring & informative show on the 'Secrets of Success' and the challenging stories behind them.
Sally leads intimate conversations with today's thought leaders, change-makers, disrupters and masters of their inner genius. Bringing you tips, strategies and insightful perspectives on a range of topics shaping our life's and businesses growth, revealing the humaneness of success & challenge.
Designed for Speakers, Coaches, Consultants, Entrepreneurs & Women in Business. Our Guests will share their stories and insight to inspire, challenge & help you grow, Sally will share her own personal stories, as well as provide practical tips & strategies so you can amplify your voice, build a hyper profitable practice, be a change-maker who creates your own ripples effects & significant impacts.
Sally had experienced firsthand being overwhelmed and stressed like the majority of business owners trying to do it all, particularly those without a coherent plan, strategy or mentor. The depth of knowledge and experience she has gained, and now uses, is the epicentre of success for her Australian and global clients. She is deeply passionate about exponential business growth, and in particular, simplifying marketing methods for her clients. One of the other benefits she provides is sharing her expansive network of connections.
Sally is known as the Marketing Problem Solver, the great 'Connector': it makes sense as she expands her global community.
Sally has worked with many leading Australian and International speakers and consultants, enabling them to seriously increase their growth, through innovative methods of planning, marketing and networking.
Sally uses proven strategies to increase enquiries, sales, leverage resources, build connections, and manage time effectively both on and offline! This is achieved with strategic business planning and content creation which comes from leveraging ALL of her clients' existing content, Intellectual Property, resources, networks, collaborations, opportunities, and most of all, their Inner Genius.
She has a captivating, engaging, and fun personality radiating success. As a result, she is in constant demand as a favourite mentor and speaker for business owners, consultants and large organisations who are looking to simplify their marketing strategies, increase their revenue and their market visibility fast.
Sally is a Professional Member of Professional Speakers Australia and the President of the South Australian Chapter. She is also a Certified Influence Coach.
Success Secrets Exposed is broadcast live Thursdays at 7PM ET.
Success Secrets Exposed TV Show is viewed on Talk 4 TV (www.talk4tv.com).
Success Secrets Exposed Radio Show is broadcast  on W4WN Radio – Women 4 Women Network (www.w4wn.com) part of Talk 4 Radio (www.talk4radio.com) on the Talk 4 Media Network (www.talk4media.com).
The podcast is also available on Talk 4 Podcasting (www.talk4podcasting.com).
Connect with Sally A Curtis – Success Secrets Exposed:
Join our Radio Community Facebook Group to get the valuable FREE downloads from our guests, containing tips, strategies and stories on how you can be more successful & grow in your own way!!