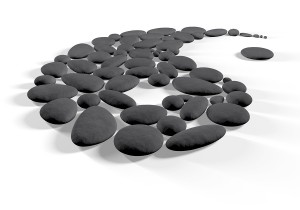 Have you ever found someone at work seriously irritating? How do you effectively manage two people who are fighting at work or home? Or a conflict your are having with another person at work or home?  Power plays are most common, but what are some other options that we can learn from the Tao? How do we live and act (do) in harmony with what wants to happen according to the Tao? Join CJ as she talks to Robert Rosenbaum author of  "Walking the Way: 81 Zen Encounters with the Tao Te Ching" as we discuss on the radio how to handle conflict at home and at work where you'll get some sample role plays, some metaphors to think abstractly about the problem, and a 3 step process to try next time you are about to react to a situation without intention and consciousness.  The YouTube video challenges our belief in the West that more is better, but how the endless pursuit of more can be an endless and tireless way of NOT living life.
Get more info at :https://www.fireitupwithcj.com/2014/03/06/42-tao-taoism-work-life/
About our Guest
Robert Rosenbaum, Ph.D. is a clinical neuropsychologist and psychotherapist in the San Francisco Bay area, a Zen practice leader and senior teacher of Dayan Qigong, and a mountaineer. He brings a lifetime of practice to the moment-by-moment harmonization of body, mind, and spirit.Bob began Zen practice in 1971; since 1988 he has practiced at the Berkeley Zen Center in the Soto Zen lineage of Snunryu Suzuki. Bob's dharma name is Meiko Onzen ("Clear Mirror, Calm Sitting"). In 2007 he was shuso (head student) for the practice period there. He was given lay entrustment by his teacher, Sojun Mel Weitsman, in 2010 and has since been active in the Lay Zen Teachers' Association of North America.Bob received authorization to teach Dayan ("Wild Goose") Qigong in 1999 from Master Hui Liu of the Wen Wu School in the tradition of Grandmaster Yang Mei Jun. Bob regularly teaches qigong at the Wen Wu school and the American College of Traditional Chinese Medicine. Ten years ago he began the first qigong program to Kaiser Permanente Medical Center in Oakland; since then it has spread to many other medical centers.In order to devote himself full time to Zen and Qigong practice, Bob recently retired from 25 years in Kaiser Permanente Medical Centers, working in the Departments of Psychiatry, Behavioral Medicine, and Neurology. While there he served as chief psychologist and as the head of assessment services. As a psychotherapist he specialized in brief therapy and, with Moshe Talmon and Michael Hoyt, did research on single session interventions. In Behavioral Medicine he developed a mindfulness-based program for patients with chronic pain. Bob initiated training programs in neuropsychology, hypnosis, and brief psychotherapy and held grants researching dementia and adult attention deficit disorder.Bob is the author of numerous journal articles and the book 
Zen and the Heart of Psychotherapy. 
His most recent book, 
Walking the Way: 81 Zen Encounters with the Tao Te Ching 
will be published by Wisdom Press in Spring 2013.Bob has been a Fulbright Professor at the National Institute of Mental Health and Neuroscience in Bangalore, India; director of the psychology doctoral program at the California Institute of Integral Studies; and was active in the Society for the Exploration of Psychotherapy Integration. He has given presentations and workshops around the world, including in Nepal, India, Australia, Japan, Europe and South America.Bob has been a lifelong avid backpacker in the Sierras and Cascades. Since 2000, Bob has spent one or two months each year in the Himalayas. He assisted his friend, Robin Boustead, in the development of portions of the Great Himalaya Trail across Nepal and India. Bob is the proud father of two grown daughters who are enthusiastic climbers, lovers of the outdoors, and committed to social justice.Bob sees the sitting meditation of zazen and the moving meditation of qigong as two complementary expressions which mutually reinforce the natural practice of the Way in ordinary, everyday activity. Psychology and neurobiology can help inform this practice, but neither explain nor constrain it:. The brain is not the mind and (as Zen Master Dogen teaches us), the mind is not the I; our bodies-and-minds are the universe, one bright pearl.