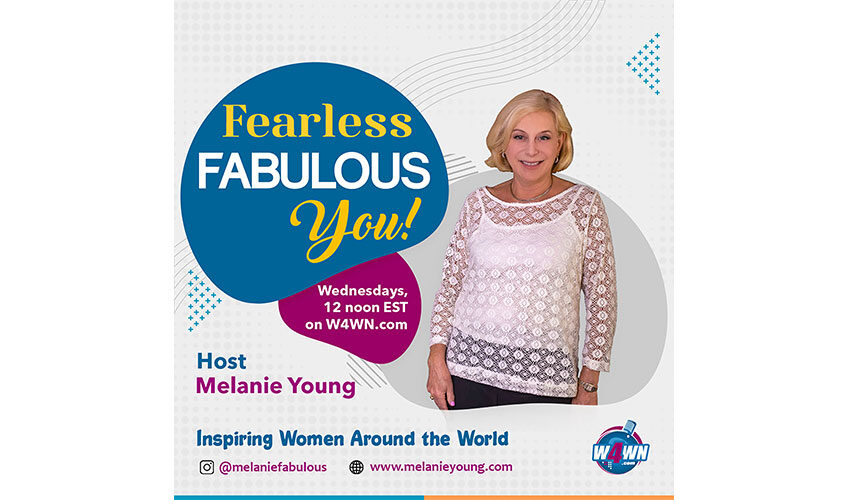 Motivational Muse & Host Melanie Young dispenses tips on living your best life- on your terms. Hear from dynamic women entrepreneurs, philanthropists, winemakers, food artisans and wellness experts.  Learn how to step out of your comfort zone, reinvent your life, launch a business, build your brand and make life choices right for you!  Melanie Young is a certified health coach, media and communications entrepreneur and award-winning author of Getting Things Off My Chest: A Survivor's Guide to Staying Fearless & Fabulous in the Face of Breast Cancer. Her message: Be Fearless. Choose Fabulous. Always value your self-worth. Follow: Instagram@melaniefabulous   www.melanieyoung.com
Fearless Fabulous You is broadcast live Wednesdays at 12 Noon ET.
Fearless Fabulous You Radio Show is broadcast on W4WN Radio – Women 4 Women Network (www.w4wn.com) part of Talk 4 Radio (www.talk4radio.com) on the Talk 4 Media Network (www.talk4media.com).
Fearless Fabulous You Podcast is also available on Talk 4 Podcasting (www.talk4podcasting.com), iHeartRadio, Amazon Music, Pandora, Spotify, Audible, and over 100 other podcast outlets.
Connect With Fearless Fabulous You: