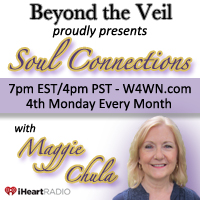 On the June 23rd episode of Beyond the Veil: Soul Connections I am ready to take the next leap in my work with the Goddess energy and share my connection to the Goddess Isis.
I am a Master Teacher and Channel for the Master Teachers of the Akasha. Within this connection I have written a series of classes and guided visualizations that show you on how to connect to the Akashic Vibration. While in the Akasha you have access to all knowledge and wisdom within the ever expanding Universe. It is a perfect vibration to connect to the Light of Your Soul and meet your Council of Light, the high vibrational Light Beings that are your Guides, Guardians, Master Teachers and Healing Instructors.
Within this course work one of the Masters I channel is the Goddess energy of Isis, my Soul Goddess. Isis has been with me throughout my life and has shared with me her wisdom and knowledge of how to attune women to their Goddess energy. The Goddess energy is active on the Earth now and wants to be connected to each and everyone of her wise women.
To introduce this channel and connection Isis has graciously agreed to be with me on my radio show, Soul Connections. The next show is scheduled for my birthday, Monday June 23rd. My show airs on the Women 4 Women Network and can be heard live right here.
All shows are archived and available on iHeart Radio by following this link https://www.iheart.com/talk/show/209-Soul-Connections-With-Magg/.
So help me celebrate a new year of life on Earth and my latest energetic connection to the vibrational energy known as the Goddess Isis.