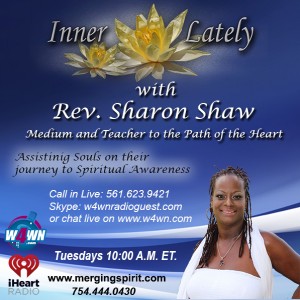 Inner Lately with RevSharon Shaw-Mh D. on Tuesdays September 22nd @ 10am EST on w4wn.com. Call 561-623-9421 or Skype: www.w4wnradioguest.com or login w4wnradio during the show to speak LIVE to Rev. Sharon. Start the day with positive intention and intuition! Tuesday's show will be focused on the Psychic download and how are you receiving this new expansive intuitive energy? Be sure to join the conversation.
As an evolving Master Rev. Sharon is a truth seeker and a truth speaker who's gifts of spirit have/are assisting many on their spiritual path. Rev. Sharon is a teacher of the path of the heart, which makes her a liberator by nature, which will assist another on their physical journey for physical healing.
https://www.mergingspirit.com or 754-444-0430
Merging Spirit teaches and offers a variety of classes, workshops and relationship building tools and various healing tools, which are based on Universal Laws and Spiritual Principals. Our offerings are designed to facilitate and support Personal Development.