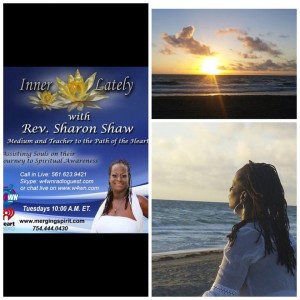 Inner Lately with RevSharon Shaw-Mh D on Tuesdays @ 10am EST on w4wn.com. Call 561-623-9421 or Skype: www.w4wnradioguest.com or login w4wnradio during the show to speak LIVE to Spiritual Shaw-MhD. and SPECIAL GUEST TRICIA SABORIO-KOIKE of MYSTICAL CORNER. Start the day with positive intention and intuition!
All past shows are archived on iHeart Radio under Inner Lately with Beth Lynch & Rev Sharon Shaw
Tricia SK is the founder and owner of Mystical Corner located in Hollywood Florida and a graduate of Delphi University of Metaphysical Studies. Tricia's journey began lifetimes ago and her evolution has led her towards self‐awareness and self‐realization with the ultimate goal… of achieving divine consciousness and the embodiment of her higher nature and spiritual abilities. As a spiritual facilitator and teacher, Tricia helps restore and build the bridges that connect us to other multi ‐universal realms.
Tricia's mission is to help integrate "Spirit on Earth" by the empowerment of self through the means of spiritual transformation of the mind, body, and spirit.
https://www.mysticalcorner.com/spiritual.aspx
Merging Spirit teaches and offers a variety of classes, workshops and relationship building tools and various healing tools, which are based on Universal Laws and Spiritual Principals. Our offerings are designed to facilitate and support Personal Development. I AM an evolutionary agent in the lives of other people. I am here to liberate people from restriction, restraint and inhibitions of fear and limited view, which will help expand into a new level of awareness.
Reverend Sharon Shaw-MhD. is a graduate of Delphi Spiritual University in McCaysville GA. Rev. Sharon is the host of a weekly internet radio show called Inner Lately on w4wn.com every Tue. @ 10am ET. where she gives intuitive guidance to the world!As a visionary her gifts will assist you in reawakening to your greatness and fall in love with the beauty of your spirit. As a evolving Master Rev. Sharon is a truth seeker and a truth speaker who's gifts of the spirit have/are assisting many on their path Rev. Sharon is a teacher of the path of the heart, which makes her a liberator by nature
For more info, please visit: www.mergingspirit.com or 754-444-0430