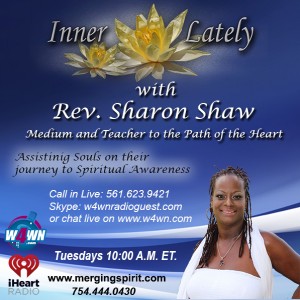 TUESDAY, SEPT. 1st @ 10 AM EST – Inner Lately with RevSharon Shaw-Mh D on Tuesdays @ 10am EST on w4wn.com. Call 561-623-9421 or Skype: www.w4wnradioguest.com or login w4wnradio during the show to speak LIVE to RevSharon Shaw-Mh D Start the day with positive intention and intuition!
Merging Spirit teaches and offers a variety of classes, workshops and relationship building tools and various healing tools, which are based on Universal Laws and Spiritual Principals. Our offerings are designed to facilitate and support Personal Development
I AM an evolutionary agent in the lives of other people. I am here to liberate people from restriction, restraint and inhibitions of fear and limited view, which will help expand into a new level of awareness.
For more info, please visit: www.mergingspirit.com or 754-444-0430