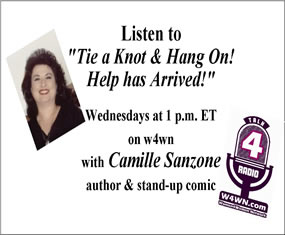 Hit PLAY above to hear Bubba Sands introduction to today's show!
T G I W – Thank God, it's WEDNESDAY!
I'm flying solo today, and since I'm not afraid of flying, you're in for a hell of a ride.

Topics up for grab:
Social Media

 – does it connect us to or disconnect us from each other?
New show segment: Dear Aunt Cami Letters – write auntcami@aol.com
Commercials – just wacky or effective?
A chapter from: At the end of your ROPE?  Tie a Knot & Hang On! HELP HAS ARRIVED!
Bits from my stand-up routines – sittin' down, of course
Say our new mantra with me:  T G I W – that's right. Thank God, It's WEDNESDAY!  Plan to join me for a mid-week break in your routine.  Better still, make me a happy part of your routine.  Wednesdays 1 pm Eastern Time – w4wn – the All Women Radio station, where men are always allowed! Spend 50 minutes with me, Camille Sanzone, your host, your laugh therapist, the friend who always makes you feel better about yourself and life.  My lovelies, I'm here for you.  Won't you be there for me?