Reality-challenged gaming geek Steve Smolinski
has 1 hour to save the world. If only he didn't 
have to do it from his cubicle at work.
Steve's boss doesn't understand that he really can't work 
when he has an entire kingdom to save from evil elves.
His girlfriend is upset that he forgot their 
two-year anniversary. His mother is angry
because he forgot to apply for readmission to MIT. 
None of them get it – if he doesn't retrieve the
sacred relic, civilization could come crashing down. 
And if he saves the relic,
he might just save himself in the process.
This hilarious hit one-man show of the
New York International Fringe Festival
has played to schools & theaters
across the United States & to large
audiences during Comic Con.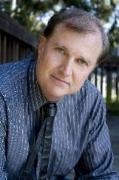 WALTER G. MEYER (co-writer, co-producer of GAM3RS) He directed, co-produced and co-wrote the TV sitcom pilot version of GAM3RS. He has also produced and directed videos for music, political campaigns and has worked on web series, television series and independent movies. He co-created and co-wrote GAM3RS. He has a degree from the School of Communications at Penn State.

He is also a novelist; his most recent novel, 

Rounding Third

, has been nominated for a Lambda Literary Award and is receiving rave reviews. 
BRIAN BIELAWSKI (co-creator, co-producer, performer) has been a professional actor for 12 years with his Master's degree from the Tony Award Winning Old Globe Theater.  In 2005 he created GAM3RS/The Play with Walter G. Meyer, and was invited to perform at New York's International Fringe Festival, MIT, the New England Institute of Art, and other venues nationwide.  In 2007 he voiced numerous characters for X-Bx 360's Saint's Row II.  Among other things, film and TV credits include a recurring role in CBS's "Guiding Light" and the Indie title Felix Culpa.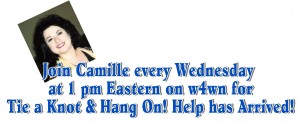 Buy Camille's best-selling book here:
Want to be a guest on or sponsor of "Tie a Knot & Hang On! Help has arrived!" 
---