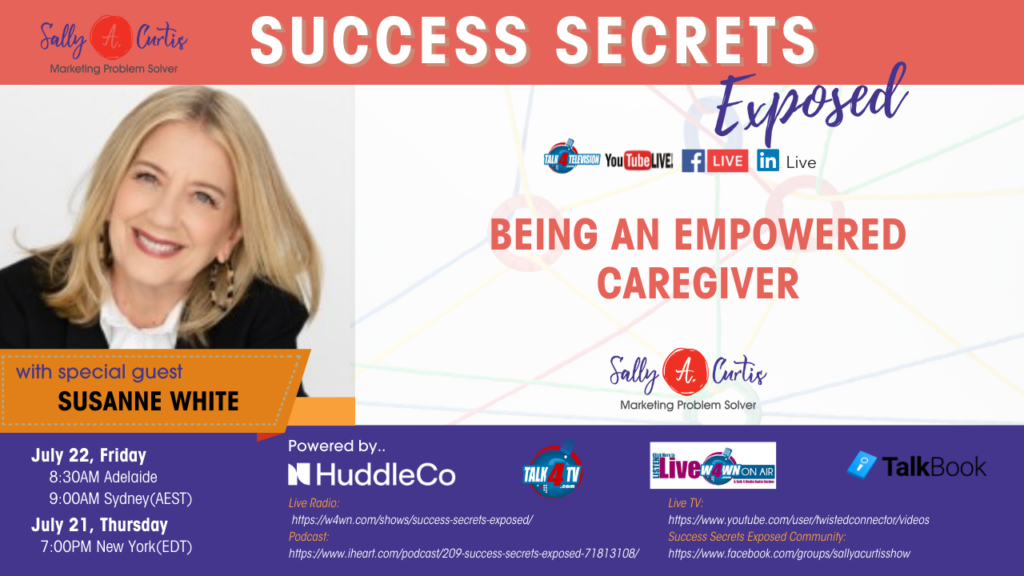 Details
WEEKLY Live Radio Show with Sally A Curtis – "The Success Secrets Exposed" Radio Show & Podcast
Find us here: https://w4wn.com/shows/success-secrets-exposed/
22nd July 8.30 am Adelaide, 9:00 am Sydney Time & Thursday 21st July at 7 pm New York time
———————————Quick Overview—————————————————–
Self awareness, self love and self care are the keys to being empowered
Putting yourself first allows you to be a better caregiver
Empathy and compassion for both those you care for and yourself builds relationships that help everyone involved thrive.
In this episode, Susanne White will share her experience with other caregivers so that they too can face the challenges of caregiving with courage and self love. She learned the hard way that if she didn't prioritize her own well being, She could not sustain caring for the well being of others. She wants to save one caregiver at a time. 
———————————Watch and Listen to us Here—————————
Watch us Live on Youtube Here: https://www.youtube.com/user/twistedconnector/
Listen Live on Internet Radio Here: https://w4wn.com/shows/success-secrets-exposed/
Join Our Facebook Group – Success Secrets Exposed Community Here: (To watch the replay) https://www.facebook.com/groups/sallyacurtisshow/
Want to Listen on the RUN!!!
Previous Show as Podcasts available here: https://www.iheart.com/podcast/209-success-secrets-exposed-71813108/
Not to be missed!!
——————————-About Success Secrets Exposed Show————–
What is the Success Secret Exposed Show about?
Success Secrets Exposed is a fun, inspiring and informative show on the secrets of success and the challenging stories behind them.
Sally leads intimate conversations with today's thought leaders, change-makers, disrupters and masters of their inner genius. Bringing you tips, strategies and insightful perspectives on a range of topics shaping our life's and businesses growth, revealing the humaneness of success & challenge.
"Alone we can do so little; Together we can do so much"
————————————-Be a Guest———————————————
"So, do you have an inspirational story and key success tips to share?
The time frame is a 12-15mins interview-style session with Sally.
Please tell me more about you via email:
sally.a.curtis@icloud.com
With the Subject line: RADIO GUEST