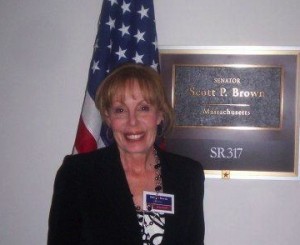 Debbie Burak is a woman on a mission and she's got fire in her belly about how we care for our Veteran's! Her story, like so many others, began from her personal 9 year experience caring for her mother at the end of her life. From this experience she founded VeteranAid.org – her non-profit dedicated to helping families get the benefits they deserve and so few families even know about. Known as the Aid and Attendance (A&A) Pension provides benefits for veterans and surviving spouses who require the regular attendance of another person to assist in eating, bathing, dressing and undressing or taking care of the needs of nature. It also includes individuals who are blind or a patient in a nursing home because of mental or physical incapacity. Assisted care in an assisting living facility also qualifies.
I'll bet you've never even heard of this, but Debbie and I are changing that this Wednesday, March 27 on The Cindy Laverty Show.  Debbie's mission is clear: Educate the Public – Combat Misinformation – Change the Process. When you hear about the backlog of claims, you might just get a fire in your belly too! We're not holding anything back.
Tune in on Wednesday, March 27 at 10am PT, noon CT and 1pm ET for The Cindy Laverty Show. Each week we talk about and explore a new subject as it relates to CARE. Imagine a world where we each spent 30 minutes a day focused on CARE. What do you think would change?
You can learn more about Debbie and Veteran Aid by visiting her website.