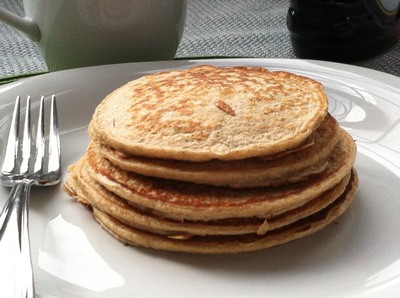 Gluten Free can taste delicious!  Let the Family Food Experts show you how.  Join us today at 1:00 pm EDT.
Pancakes are typically a weekend treat; high in sugar and not weight loss friendly.  These Power Pancakes are protein packed with no added sugar.  AND, they are gluten free as long as you use gluten free oats and cottage cheese.  They are delicious served with fruit or a spread of nut butter.  Top with some more cottage cheese and cinnamon or fruit for extra protein!
½ cup old fashioned oats
½ cup low fat cottage cheese
1 teaspoon vanilla extract
½ teaspoon cinnamon
1 egg
2 egg whites
1/2 teaspoon baking powder
Place all ingredients into a blender or food processor and gently blend until oats are no longer visible.  Spray griddle or omelet pan with nonstick cooking spray and heat on medium to medium high.  Pour batter to make 5 large pancakes. Try to avoid making them too thick or the middle will not thoroughly cook.  Flip when top is bubbly, and cook until lightly browned.
Makes 5 pancakes:
Per pancake: 72 calories, 2g fat, .7g sat fat, 39mg chol,168mg sodium, 6.7g carbohydrate, 1g fiber, 1.3g sugar, 6.5g protein
Tips and Twists:
To lower the calories and fat further, use liquid egg whites, approx 1/4 cup plus 2 Tablespoons.  The batter will be slightly thinner as well. Double the recipe and freeze some to use throughout the week. This recipe yields 5 sizable pancakes, you can easily make 8-10 smaller ones if you prefer.