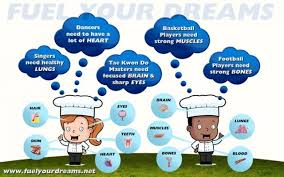 Do you have an aspiring NBA player, veterinarian, dancer or singer in your home?  How about a child determined to be an Olympian gymnast, MLB star, teacher, artist or policeman.  Thousands of kids have shared their dreams with me and I simply tell them, "You can be that but you have to do 3 things: learn what you need to learn, practice what you learn, eat the foods your body needs to be the best you can be!"  This gets their attention.  Listen to how we connect why making healthier food choices will help them be great.  Carolina Jantac, MS, RDN, LD (Kid Kritics Approved) and I will give you the keys proven to motivate children to choose to eat foods such as Broccoli Bites, Pepper Poppers and even Japchae Veggie Stir-Fry (filled with kale, spinach, shitake mushrooms and more).  Facts are, these recipes tasted so good they begged for more.  This show is your ticket to finding out how to turn your children on to feeding their brains, heart, lungs, muscles, hair, nails, eyes, teeth, bones and blood. No more nagging!
Come into our Family Food Experts Kitchen to join Carolina and me as we Fuel Your Children's Dreams with healthy delicious foods the whole family will love!
… for the health of your family,
ellen
www.FamilyFoodExperts.org
www.KidKritics.org
www.FuelYourDreams.org
If you miss the live show, tune in on Sunday, 1pm ET, W4WN.com.