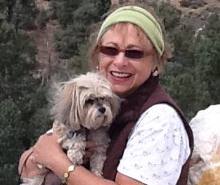 Dr. Carol Orsborn knows exactly what it takes to be Fierce with Age! She coined the phrase and she lives this philosophy every day. In her new book, Fierce with Age – Chasing Squirrels and God in Brooklyn, she opens up to the conflicts and emotions of being a Boomer Woman in a world that covets youth. Her poignant, humorous and heartfelt stories capture your heart and have you reflecting on your own life.
Having authored over 20 books, Carol Orsborn is a highly accomplished woman. She'll share her story this week on The Cindy Laverty Show, but what you will soon find out is that she shares the same secret fears we all do…she questions herself and her confidence was rocked during one year in New York. She is a spiritual thought leader and serves on the Executive Team for CoroHealth. She is also the Founder of FiercewithAge.com, an online digest of Boomer wisdom, inspiration and spirituality. We are all aging. You can't stop it. You can't change it, but you can change your thoughts about it.
Join Dr. Carol Orsborn and me on Wednesday, July 2, 2013 for what will be a riveting interview. We're not talking fluff here…we're going into the weeds and I can't wait. You, too, can become Fierce with Age!
Tune in Wednesday at 1pm ET. This is one interview you'll be glad you listened to.