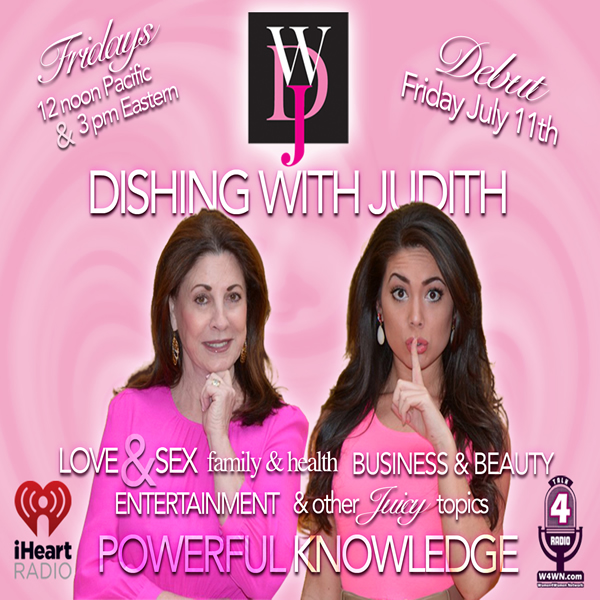 CALABASAS, Calif. — (July 17, 2014) —Judith Mancini, producer and host of "Dishing with Judith" is launching her popular radio talk show on Women 4 Women Radio (w4wn.com) and iHeartRadio.com on Friday, July 18th at 12Noon/PDT; 3PM/EDT. Broadcast live in-studio from Burbank, California, Mancini's guests will include celebrities, musicians, artists, authors and anyone with powerful knowledge or a spicy story.  Her co-host, Noelle, a fashion designer/blogger, social media expert and founder/CEO of Digital Media Strategy will offer weekly "fashion finds" and lively commentary on all the new social trends.
"This is an amazing opportunity to share a lots of hot topics that are relevant today with a larger audience, and also have fun interacting and dishing across the generations with my co-host Noelle," said
Mancini. "Noelle and I span a few years and it's illuminating and entertaining to find our opinions are so much alike. We invite listeners to tune in and join our provocative discussions every Friday afternoon!"
To contact Judith Mancini, email: dishingwithjudith@gmail.com or visit www.dishingwithjudith.com.
About Judith Mancini
Fashion model, stewardess, magazine publisher, anti-aging skincare expert and now radio talk show impresario, Judith Mancini's illustrious and multifaceted career has provided the consummate entrepreneur with the independence, adventure, opportunities and challenges she continues to embrace today. As the former owner and publisher of Let's Live and Be Healthy! Magazines, Mancini showed her business acumen when she quadrupled ad sales and dramatically grew the circulation within 18 months.  She sold the publishing company in 1995 and began studying skincare.  For several years and after much research, Judith founded La Contessa Advance Skincare, an exclusive line of anti-aging beauty products.
That same year, in September 2013, Mancini was asked to develop a radio/video show for Universal Broadcasting Network. Judith created "Dishing the Details" where she and experts in the fields of love, sex, health, investing and real estate discussed the juiciest celebrity gossip, and aired their thoughts on the hard news of the day, and she and co-host Noelle interviewed many fascinating people. A native Los Angelino, Judith resides in Southern California with her husband of eighteen years, Lou.