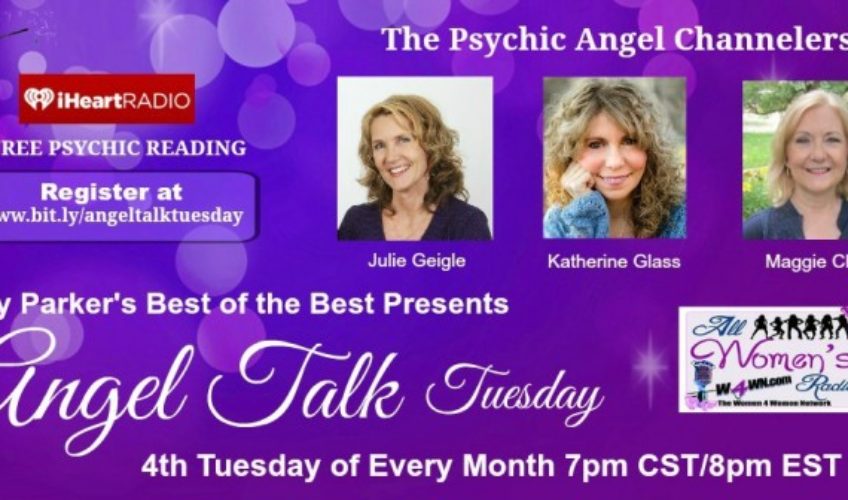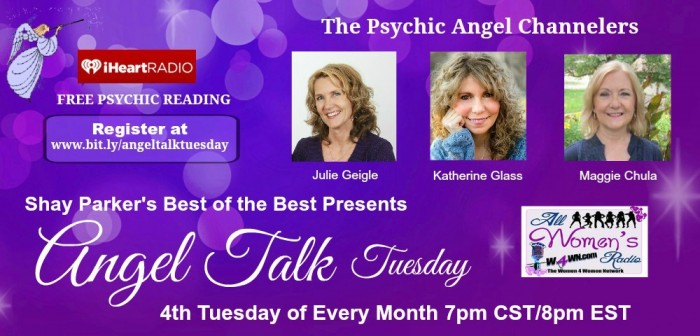 Angel Talk Tuesday – 4th Tuesday of every month
What would it mean to be able to talk to Angels? How would that change your life?
On the fourth Tuesday of every month, please join International Psychic Medium & Gifted Channel of Archangel Metatron, Julie Geigle as she guest hosts Best of the Best with Angel Talk Tuesday.
Join Julie and her team of Psychic Angel Channelers, Katherine Glass and Maggie Chula as they directly communicate with the Angelic realm through trance channeling. Angel Talk Tuesday will help you awaken, expand and remember the magnificent being that you are.
Registered participants and members will be randomly selected for a free reading at the end of the show. Be sure to register at >>https://bit.ly/angeltalktuesday
Julie Geigle is an International Psychic Medium & Certified Guide for The Casa, assisting people on a spiritual healing journey through the John of God experience in Brazil. She holds a Masters degree in Education and is a Spiritual Healer, Teacher and gifted channel of Archangel Metatron. Julie also holds certification in hypnotherapy, meditation, Reiki, and is an Ordained Minister.
In 2012, Julie created "Inner Circle" because she wanted a place for people to go to connect with like-minded souls and get the help and support they needed on their spiritual journey. She is also the host of several radio shows featured on Blog Talk Radio, W4WN, and iHeart Radio.
Julie is a 4th generation psychic and began to embrace her gifts once her own father passed in 1996. She has a very calm, soothing voice and soft, angelic presence. She tunes into messages from the angels and her guide, Archangel Metatron, easily and effortlessly to guide and direct you in your life. She specializes in Psychic Business Consulting. https://juliegeigle.com
As a "tested & approved" member of Shay Parker's Best American Psychic directory, Julie is honored to have received the "Awesome Accolades" award for 2014. Julie is a co-author in the #1 Amazon Best Seller "365 Days of Angel Prayers." She is the Chapter Spokesperson for the month of June and has 12 prayers throughout the book.
You can learn more about the Psychic Angel Channelers at
Julie Geigle, Psychic Medium & Archangel Metatron Channel https://www.juliegeigle.com
Katherine Glass, Psychic Medium & Spiritual Healer https://www.katherineglass.com
Maggie Chula, Psychic Medium & Spiritual Counselor https://www.maggiechula.com