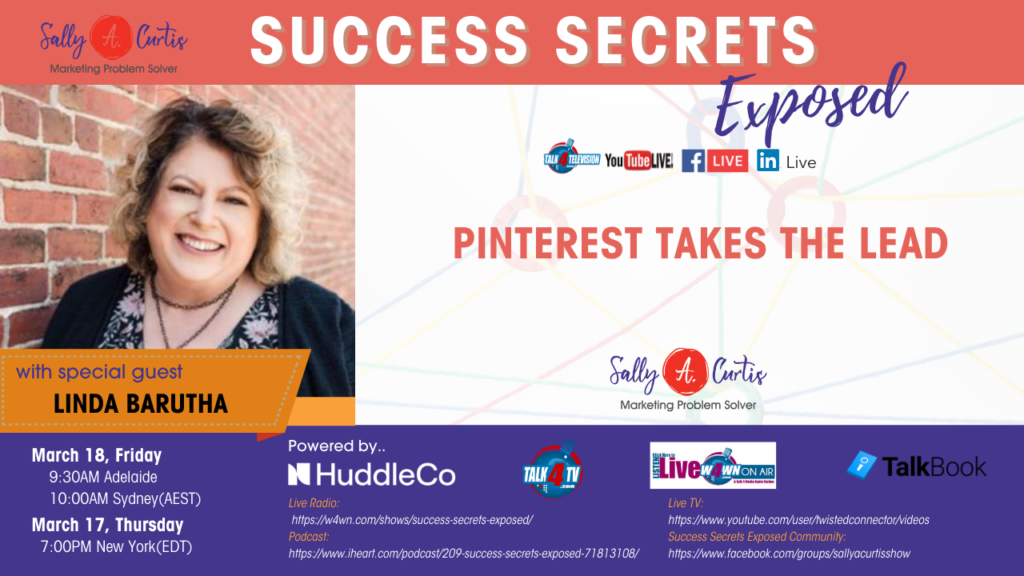 WEEKLY Live Radio Show with Sally A Curtis – "The Success Secrets Exposed" Radio Show & Podcast
Find us here: https://w4wn.com/shows/success-secrets-exposed/
18th March 9.30 am Adelaide, 10:00 am Sydney Time & Thursday 10th March at 7 pm New York time
———————————Quick Overview—————————————————–
As someone who was an IT professional for 25 years and then an entrepreneur for 20 years, Linda Barutha knows the power of using technology to increase our online visibility and building authority.
In this episode, she will tell you about the power of Pinterest and how it can increase your online visibility and build your authority. She will tackle exactly why you want to use Pinterest, How to get started using Pinterest and Shifting your mindset to find even more possibilities.
———————————Watch and Listen to us Here—————————
Watch us Live on Youtube Here: https://www.youtube.com/user/twistedconnector/
Listen Live on Internet Radio Here: https://w4wn.com/shows/success-secrets-exposed/
Join Our Facebook Group – Success Secrets Exposed Community Here: (To watch the replay) https://www.facebook.com/groups/sallyacurtisshow/
Want to Listen on the RUN!!!
Previous Show as Podcasts available here: https://www.iheart.com/podcast/209-success-secrets-exposed-71813108/
Not to be missed!!
——————————-About Success Secrets Exposed Show————–
What is the Success Secret Exposed Show about?
Success Secrets Exposed is a fun, inspiring and informative show on the secrets of success and the challenging stories behind them.
Sally leads intimate conversations with today's thought leaders, change-makers, disrupters and masters of their inner genius. Bringing you tips, strategies and insightful perspectives on a range of topics shaping our life's and businesses growth, revealing the humaneness of success & challenge.
"Alone we can do so little; Together we can do so much"