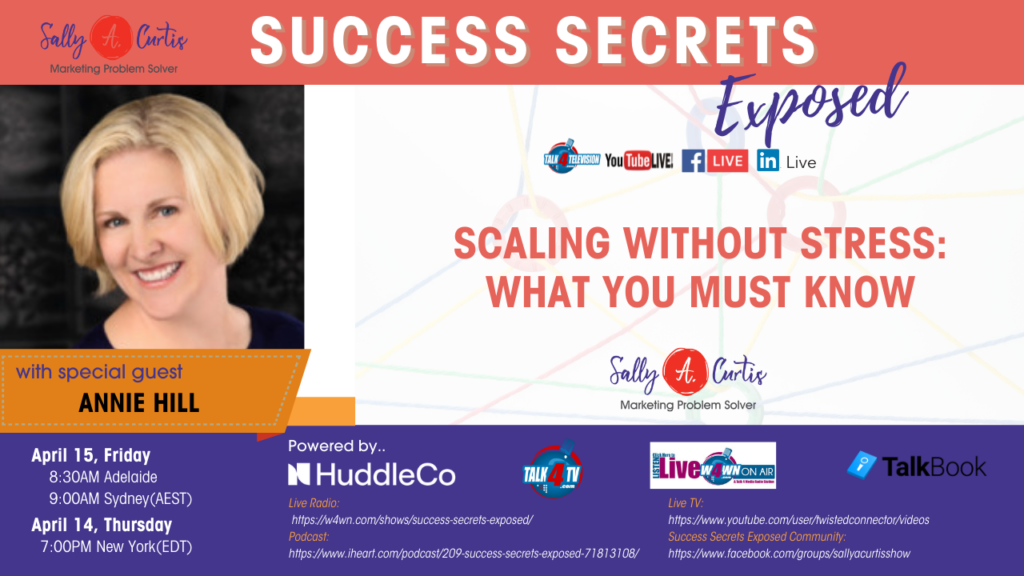 WEEKLY Live Radio Show with Sally A Curtis – "The Success Secrets Exposed" Radio Show & Podcast
Find us here: https://w4wn.com/shows/success-secrets-exposed/
15th April 8.30 am Adelaide, 9:00 am Sydney Time & Thursday 14th March at 7 pm New York time
———————————Quick Overview—————————————————–
Anne Hill realizes how much of a correlation there is between the health of a business owner and the health of a business. She is utilizing her 15 years as a Physical Therapist to help business owners see the end results and build processes to achieve their major goals. After working with Anne, business owners work in the most efficient way to streamline and run their business – saving them time, money, and frustration. She is able to take the big goals that seem overwhelming and break them down to achievable steps. Get your notebook ready because Anne has a wealth of knowledge to help you make better decisions for your business.
———————————Watch and Listen to us Here—————————
Watch us Live on Youtube Here: https://www.youtube.com/user/twistedconnector/
Listen Live on Internet Radio Here: https://w4wn.com/shows/success-secrets-exposed/
Join Our Facebook Group – Success Secrets Exposed Community Here: (To watch the replay) https://www.facebook.com/groups/sallyacurtisshow/
Want to Listen on the RUN!!!
Previous Show as Podcasts available here: https://www.iheart.com/podcast/209-success-secrets-exposed-71813108/
Not to be missed!!
——————————-About Success Secrets Exposed Show————–
What is the Success Secret Exposed Show about?
Success Secrets Exposed is a fun, inspiring and informative show on the secrets of success and the challenging stories behind them.
Sally leads intimate conversations with today's thought leaders, change-makers, disrupters and masters of their inner genius. Bringing you tips, strategies and insightful perspectives on a range of topics shaping our life's and businesses growth, revealing the humaneness of success & challenge.
"Alone we can do so little; Together we can do so much"
————————————-Be a Guest———————————————
"So, do you have an inspirational story and key success tips to share?
The time frame is a 12-15mins interview-style session with Sally.
Please tell me more about you via email:
sally.a.curtis@icloud.com
With the Subject line: RADIO GUEST