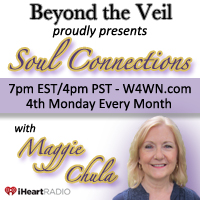 On the next Soul Connections with Maggie Chula, March 24th at 7 PM EST the topic will be on Life Between Lives.
Maggie will share information on the vibrational level of your Soul. We will talk about our life between lives. Dr Michael Newton and his work on Spiritual Regression was instrumental in helping Maggie understand her awakened Soul Purpose. 
The Spiritual regression Maggie had was confirmation that she was being called to move ahead on her true life path sharing the knowledge and wisdom on how to heal on the quantum level with the Body, Mind, Spirit and Soul connections.
So tune in and ask any questions you may have about the soul and the life we live after our physical life on Earth is over.