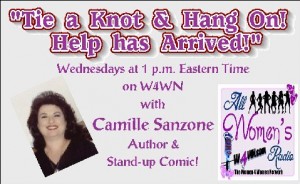 My show is about encouraging people to find ever better ways of being in the world through laughter,compassion, awareness & understanding versus the need to be right.  Although I fly solo from time to time, as I will be this Wednesday, I often present guests from various fields who will engage, inspire, motivate, uplift, provoke, and incite you to positive action.  
As a stand-up comedienne for years, I will do my best to entertain you and give you the mid-week boost that will not only sustain you throughout the rest of the week, but just might get you chanting TGIW instead of TGIF.
Hear what Bubba Sands has to say about that:
"Aunt Cami" is what a lot of people call me, not just my grown nephews Johnny & Rob, or my great nephews Alec, Derek & Devin, (who are, in fact, great!); so I've started doing an occasional segment called Dear Aunt Cami.  I answer questions listeners send to me at: askauntcami@aol.com.  Send me your questions and I'll be happy to answer them on the air. ..in an amusing yet enlightening way.
The title of my show comes from the title of my major book to date:  At the End of your Rope? Tie a Knot & Hang On! HELP HAS ARRIVED!
Ever felt you were at the end of your rope? Well, within the pages of my book, you will surely find a new supply! Filled with life strategies, humor, philosophy, comfort food recipes, original poetry, and processes that will stir your inner workings, this book will make you think, make you laugh, and encourage you how to choose ever better ways of being in the world.  You deserve to be happy.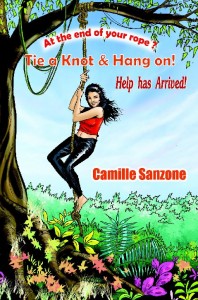 Table of Contents:
Chapter 1 – Putting one foot in front of the other
Chapter 2 – Why didn't I learn everything I ever needed to know in kindergarten?
Chapter 3 – Living on the Verge: Change without crisis
Chapter 4 – Get off your BUT
Chapter 5 – There is POWER in every moment
Chapter 6 – Believe it or NOT
Chapter 7 – Affirmations: Telling the truth in advance
Chapter 8 – Surrendering the HOW!
Chapter 9 – LIFE: The Supreme Juggling Act
Chapter 10 – Your Authentic Self
Chapter 11 – Reaching in and Reaching out for help
Chapter 12 – Living a Compassionate Life
Chapter 13 – Be Grateful to be Who You Are
Chapter 14 – A Conversation with Some Angels
Chapter 15 – My Conversation with God
Chapter 16 – Nourishing Body, Mind and Spirit
Chapter 17 – The Right words at the Right time
So, grab that piece of rope, tie a knot, hang on, and prepare to swing. Help has arrived!  You can buy my book by clicking on BOOK.
I hope you will become a regular listener.  I'll be here every Wednesday at 1 pm Eastern.  
Click the arrow on the left below to hear how excited Arthur is about my show: