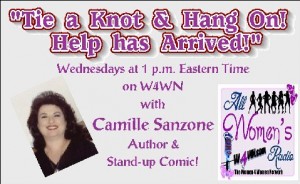 Unsolicited Testimonial:
Camille is great!  Great sense of humor too!!!  Extremely intelligent, conversational, talented,
friendly, crazy, and, clearly, here to serve!  I took notes and could relate so very much…
Her listeners, including yours truly, are really going to grow into happier people.
Camille is a gift to all of us.  – Arlene Gibson, Las Vegas
Well that was an unsolicited testimonial, but highly paid for.  KIDDING!  Thanks, Arlene.  
I'm enjoying receiving emails from listeners.  Keep 'em coming, and send me more
Dear Aunt Cami letters!   I'd love to include them in my next "Dear Aunt Cami" segment.  
(Send letters to askauntcami@aol.com.)
I'll be flying solo this Wednesday, and since I have no fear of flying, prepare for a fun and interesting show.  Topics may include any number of things, but among them will be the fascinating sex habits of insects and animals (you will NOT believe what female bedbugs have to endure…or male bees…ain't no sex education goin' on there; or what lengths male animals will go to attract the female…(and I thought human male comb-overs were somethin');  nakations (vacations in the buff); wacky commercials; movie reviews; and terrible but terribly funny stories.
Join me, won't you?
1 pm Eastern – Wednesday – W4WN 
(For those of you who were lucky enough to hear my show last week, a reminder to send an email to Johnny at johhnysanzone66@gmail.com to be placed on his email list for notification when his CD is ready.)
for notification when his CD is ready.