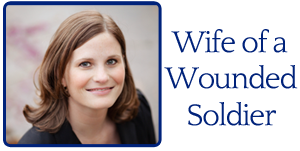 Cheryl Gansner is the wife of a severely injured soldier. She is passionate, vibrant, dedicated, courageous and she is an advocate for the wives of our wounded warriors. Her blog Wife of a Wounded Soldier is riveting and it's her story, but it's also the story of many other wives and their husbands who are returning from war because they have been injured. Cheryl's husband is her hero and their story, together, is one of hope, loss and perseverance, but above all else…it's a story of LOVE!
In addition to her role as her husband's caregiver, she is the Program Coordinator for Hearts of Valor, an organization dedicating to supporting the thousands of wives who are experiencing their new role as giving care to their husbands. Their mission is simple: They "seek to honor the service and sacrifice of the women who care for our nation's wounded, ill or injured warriors by providing a community of support based on a foundation of empathy and mutual understanding. Hearts of Valor is a network of people caring for wounded, ill or injured service members, created and maintained by Operation Homefront."
As a nation we can do better. As a nation we can support these young couples finding their way through their new reality. It's not easy. But after meeting Cheryl, you, too, will understand that these are strong, independent, courageous women.
Tune in to The Cindy Laverty Show every Wednesday at 1pm ET, noon Central Time and 10am Pacific Time.