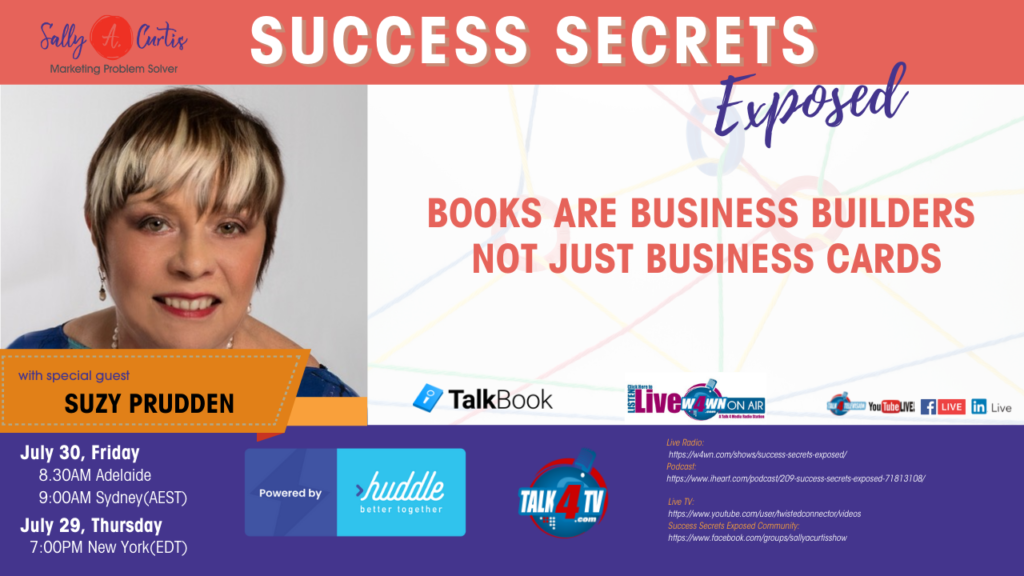 Details
WEEKLY Live Radio Show with Sally A Curtis – "The Success Secrets Exposed" Radio Show & Podcast

Find us here: https://w4wn.com/shows/success-secrets-exposed/
30th July 8.30 am Adelaide, 9 am Sydney Time & Thursday 29th July at 7 pm New York time
———————————Quick Overview——————————————————-
Most people do not fully understand the power of a small book.
People no longer to need to be inundated with information. They don't have time or bandwidth. Join us as Suzy Prudden tells us how every Itty bitty book has the potential for the chapters to lead to: Webinars, Seminars,Certification Programs,Licensing Programs,Facebook Live Series, YouTube Series and more.
Books position the author as an expert in their field. Books get the author booked on Podcasts, Radio Shows, TV, Magazines, and more
The book is the beginning, the work starts after it's published.
Suzy Prudden is an internationally acclaimed speaker and seminar leader, author and TV/radio host and personality, has been inspiring audiences and groups since 1965. She is a New York Times Best Selling Author (from before the internet), fitness expert, hypnotherapist, success coach, radio and TV host, Publisher and Visionary. Suzy is a master of self-reinvention. At 78, she is the co-creator and president of the Your Amazing Itty Bitty Publishing Series. https://www.ittybittypublishing.com
———————————Watch and Listen to us Here———————–
Watch us Live on Youtube Here: https://www.youtube.com/user/twistedconnector/
Listen Live on Internet Radio Here: https://w4wn.com/shows/success-secrets-exposed/
Join Our Facebook Group – Success Secrets Exposed Community Here: (To watch the replay) https://www.facebook.com/groups/sallyacurtisshow/
Want to Listen on the RUN!!!
Previous Show as Podcasts available here: https://www.iheart.com/podcast/209-success-secrets-exposed-71813108/
Not to be missed!!