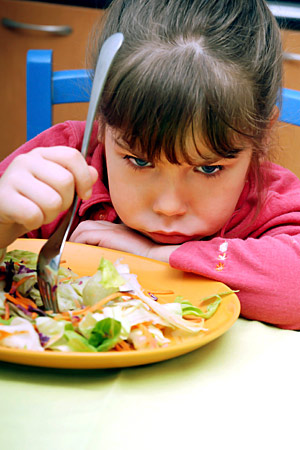 It seems there is a Picky Eater in every family.  I had one, an award winning one.  I know the challenges of hearing kids say, "I don't like it; I don't want it; I won't try it, NO." Their lips tighten shut. They also  gag and make "yucky, no way Hosea" faces.  It may be because it is green, has a "funny" texture, the food is mixed (casserole), it's not sweet – their reasons of refusal are endless and often creative.
Is this phrase, "Thumbs Up, No Yucks" music to your ears?  If so, then this is the show for you.  Stacey Antine, RD, founder of HealthBarn USA, wrote the Guide to Getting Your Kid to be a Great Eater.  Her book is called Appetite for Life. Her goal is to have your kids eating fresh healthy foods while giving you a thumbs up with a smile.  She is our Co-Host this week.
Our guests will be you, moms and dads of picky eaters!  We are inviting you to call in with your questions and concerns.  With Stacey's exceptional success in turning Picky Eaters into willing ones, and mine with the Kid Kritics blind taste tests and moms who use our Kid Kritics Approved products and recipes, we have are steeped in resources to help you.
And, you can expect to hear some great recipe ideas your family will love including easy ones you can fix in a jiff, plus ones you can eat on the run!
Come into our Family Food Experts Kitchen on Thursday. May 2nd, 1pm ET, www.W4WN.com. Listen in while you are busy preparing or already enjoying your dinner. See you then!
… for the health of your family,
ellen (host)
KidKritics.com
Family Food Experts.com