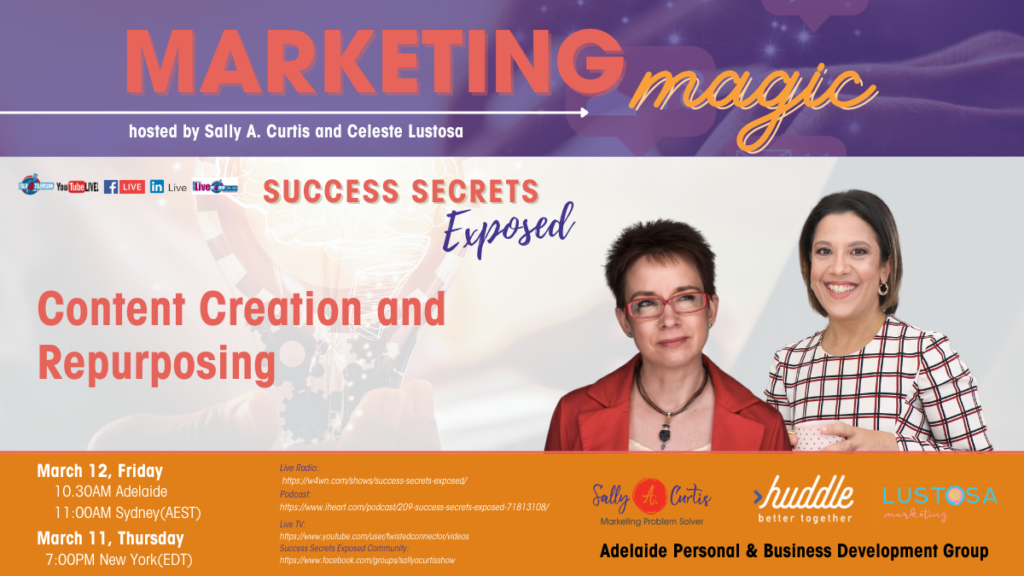 WEEKLY Live Radio Show with Sally A Curtis – "The Success Secrets Exposed" Radio Show & Podcast
Find us here: https://w4wn.com/shows/success-secrets-exposed/
12th March 10.30 am Adelaide, 11 am Sydney Time & Thursday 11th March at 7 pm New York time
———————————Quick Overview——————————————————-
Sally is a problem solver. Celeste is a strategist. Together, they have over 40-years of experience in business, sales, communications, and marketing.
Guided by data, performance, ROI and tested strategies, they have helped hundreds of entrepreneurs to build successful brands.
They have come together because they believe that through collaborations, businesses can achieve more; do more; be better!
Join us to learn the how to create engaging & compelling content your audience will love. Discover the steps of how to repurpose your content from books or articles into bite-size easy to digest content chunks.
All designed to increase your visibility, credibility and profitability on-line.
———————————Watch and Listen to us Here———————–
Watch us Live on Youtube Here: https://www.youtube.com/user/twistedconnector/
Listen Live on Internet Radio Here: https://w4wn.com/shows/success-secrets-exposed/
Join Our Facebook Group – Success Secrets Exposed Community Here: (To watch the replay) https://www.facebook.com/groups/sallyacurtisshow/
Want to Listen on the RUN!!!
Previous Show as Podcasts available here: https://www.iheart.com/podcast/209-success-secrets-exposed-71813108/
Not to be missed!!
——————————-About Success Secrets Exposed Show————–
What is the Success Secret Exposed Show about?
Success Secrets Exposed is a fun, inspiring and informative show on the secrets of success and the challenging stories behind them.
Sally leads intimate conversations with today's thought leaders, change-makers, disrupters and masters of their inner genius. Bringing you tips, strategies and insightful perspectives on a range of topics shaping our life's and businesses growth, revealing the humaneness of success & challenge.
"Alone we can do so little; Together we can do so much"
– Helen Keller