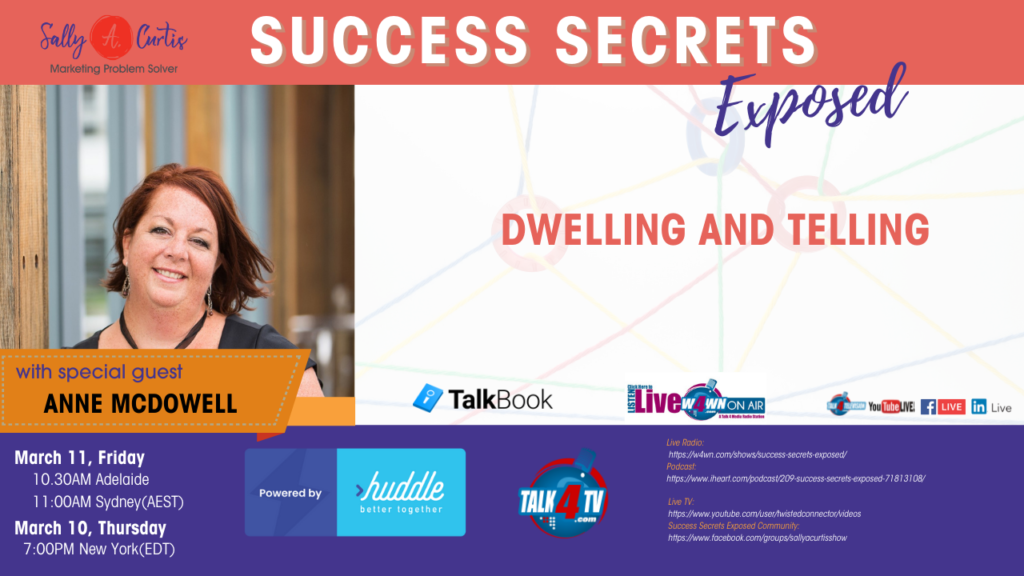 WEEKLY Live Radio Show with Sally A Curtis – "The Success Secrets Exposed" Radio Show & Podcast
Find us here: https://w4wn.com/shows/success-secrets-exposed/
11th March 10.30 am Adelaide, 11:00 am Sydney Time & Thursday 10th March at 7 pm New York time
———————————Quick Overview—————————————————–
Anne McDowell is a Mindset, Change and Resiliency Coach. She is also a 2x Award Winning Author, Speaker and Instructional Designer.
She made it her life's work over the last 20 years (She majored in leadership and organisational change in her Master degree), to positively influence people's ability to cope with, and move through life's challenges, whatever they may be.
She did this through coaching, mentoring, guiding and leading people through programs that focus on mindset makeovers, developing
resiliency, coping with change and creating optimism/confidence, amongst many other things.
In this episode, Anne will talk about how to be a problem solver, not a
problem dweller and teller. She will share with us how wallowing in self-pity and or demanding people's attention by gaining sympathy on social media is not problem solving — it's problem dwelling and retelling.
———————————Watch and Listen to us Here—————————
Watch us Live on Youtube Here: https://www.youtube.com/user/twistedconnector/
Listen Live on Internet Radio Here: https://w4wn.com/shows/success-secrets-exposed/
Join Our Facebook Group – Success Secrets Exposed Community Here: (To watch the replay) https://www.facebook.com/groups/sallyacurtisshow/
Want to Listen on the RUN!!!
Previous Show as Podcasts available here: https://www.iheart.com/podcast/209-success-secrets-exposed-71813108/
Not to be missed!!
——————————-About Success Secrets Exposed Show————–
What is the Success Secret Exposed Show about?
Success Secrets Exposed is a fun, inspiring and informative show on the secrets of success and the challenging stories behind them.
Sally leads intimate conversations with today's thought leaders, change-makers, disrupters and masters of their inner genius. Bringing you tips, strategies and insightful perspectives on a range of topics shaping our life's and businesses growth, revealing the humaneness of success & challenge.
"Alone we can do so little; Together we can do so much"