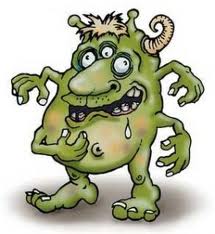 We are jumping on the spreading Flu Bug issue. Joining us to talk about food strategies needed to win flu and cold wars is my favorite kids' physician and author,  Dr. Bob Sears from the well-known pediatrician Sears family.  As you know, flu reports are filling the headlines these days.  Everywhere you go people are sneezing and coughing, with or without a fever. Time to stoke up on antioxidant- saturated fruits and vegetables for cold or flu prevention and healing.  And, there's more in the food medicine cabinet of our co-host Dr. Heather Manley (Human Body Detectives) and Dr. Bob. Get ready to find out how to beat sickening bugs. Have your notepad ready as you will want to take notes in order to manage the health of your family this winter.
Please, join us in our Family Food Experts Kitchen. Tune in, Wed. Jan. 23th, 6pm ET. W4WN.Listen in while you are busy preparing or already enjoying your dinner… hopefully you are not sick in bed. See you then!
… for the health of your family,
ellen (host)
KidKritics.com
P.S. If you miss us live, listen on Thursday, Jan.24th, 1pm ET, on W4WN radio or W4CY radio.