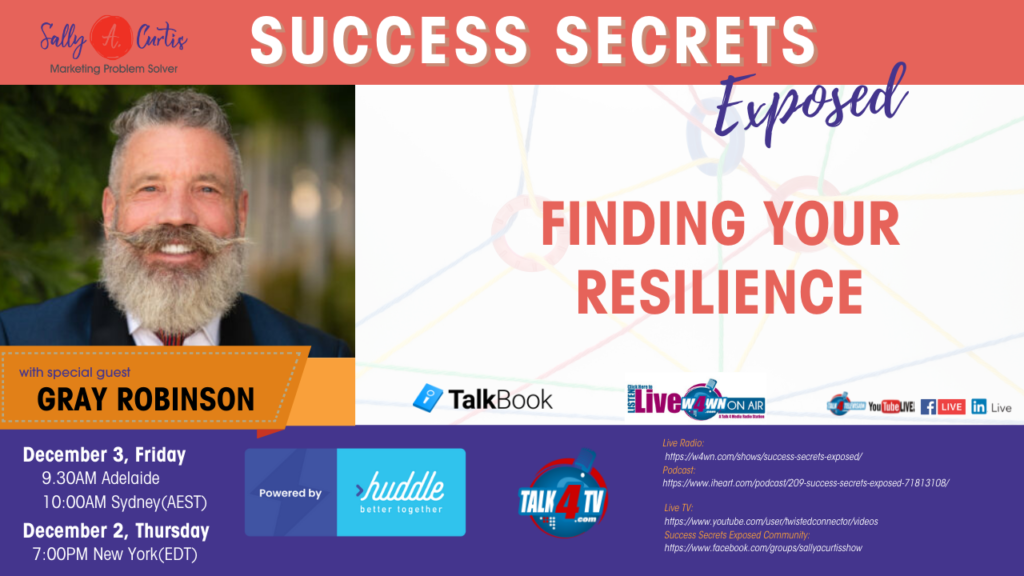 WEEKLY Live Radio Show with Sally A Curtis – "The Success Secrets Exposed" Radio Show & Podcast
Find us here: https://w4wn.com/shows/success-secrets-exposed/
3rd December 9.30 am Adelaide, 9 am Sydney Time & Thursday 2nd December at 7 pm New York time
———————————Quick Overview——————————————————-
Gray Robinson is a lawyer, writer, speaker, mentor, consultant and coach for lawyers and other professionals who are struggling with their practice of law. He was a divorce lawyer for 27 years and handled hundreds of divorces, custody and support cases. He quit in 2004 due to stress and burn out and has devoted his life to helping lawyers and clients deal with stress and pressures of practicing law.
For the last 16 years Gray has been studying and researching what happened to him and his career and how to heal. He talked to therapists, experts, gurus, and went to every seminar he could find. What Gray noticed was there weren't any programs for lawyers who were struggling with stress and anxiety like he did. Using the wisdom and counseling Gray had learned in his search he decided to climb back in the saddle and took the Oregon State Bar Exam. He passed!
Gray has since developed an effective program Lawyer Lifeline to help attorneys and judges (and other professionals) understand why they get stressed and how to manage it. Not only manage it, but thrive with it. Gray wants lawyers to enjoy their life, their practice, their families.
———————————Watch and Listen to us Here—————————-
Watch us Live on Youtube Here: https://www.youtube.com/user/twistedconnector/
Listen Live on Internet Radio Here: https://w4wn.com/shows/success-secrets-exposed/
Join Our Facebook Group – Success Secrets Exposed Community Here: (To watch the replay) https://www.facebook.com/groups/sallyacurtisshow/
Want to Listen on the RUN!!!
Previous Show as Podcasts available here: https://www.iheart.com/podcast/209-success-secrets-exposed-71813108/
Not to be missed!!
——————————-About Success Secrets Exposed Show————–
What is the Success Secret Exposed Show about?
Success Secrets Exposed is a fun, inspiring and informative show on the secrets of success and the challenging stories behind them.
Sally leads intimate conversations with today's thought leaders, change-makers, disrupters and masters of their inner genius. Bringing you tips, strategies and insightful perspectives on a range of topics shaping our life's and businesses growth, revealing the humaneness of success & challenge.
"Alone we can do so little; Together we can do so much"
– Helen Keller