Carmela Ramaglia is quickly becoming internationally recognized as a leading authority in clarifying and healing the issues surrounding diet, exercise and weight-loss. She is the author of Happy Calories Don't Count (neither does unhappy exercise) and the creator of the New Body Mind Makeover™. Her Five Step Signature System illuminates the path for healing and sustainable results!
Join me today on The Wellness Journey- Live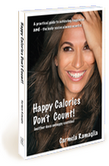 as I discuss all things wellness; mind, body and spirit with Carmela!
The Wellness Journey-LIVE S airs 1pm PST/4 pm EST