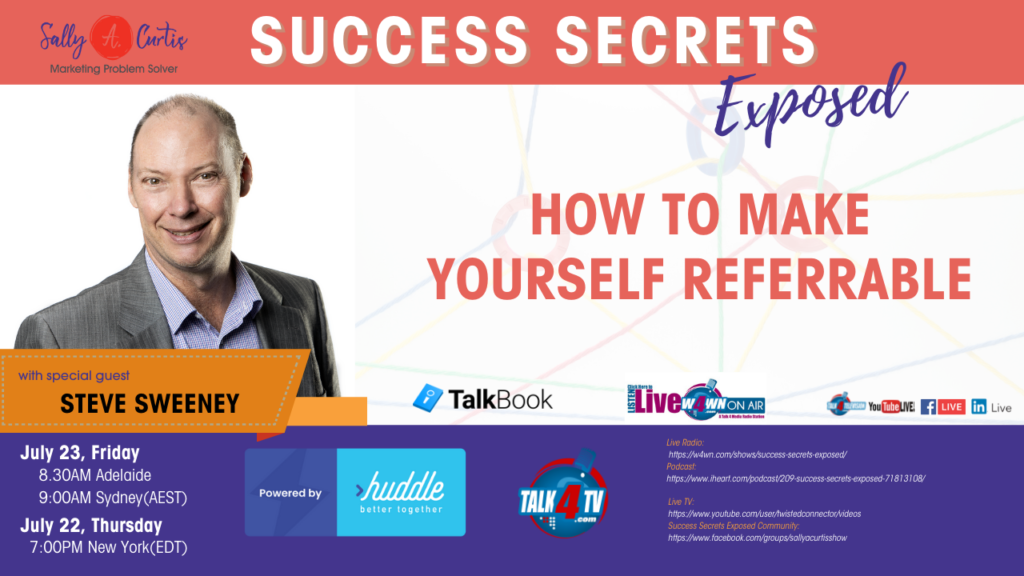 WEEKLY Live Radio Show with Sally A Curtis – "The Success Secrets Exposed" Radio Show & Podcast
Find us here: https://w4wn.com/shows/success-secrets-exposed/
23rd July 8.30 am Adelaide, 9 am Sydney Time & Thursday 22nd July at 7 pm New York time
———————————Quick Overview——————————————————-
Steve Sweeney is the Owner and Head Trainer of ARTA, the Australian Referral Training Academy. His maxim, it's better to attract buyers than to sell, is the cornerstone of his philosophy and guides every detail of the company.
Steve has trained thousands of business owners and their teams to attract business via referrals through such organisations as BNI, Business in Heels, co-working spaces and independent networking groups.
As the Area Training Director for two BNI franchises in Australia, the 1,000+ members regularly made over $100million annually because they understood the art and science of referral marketing.
———————————Watch and Listen to us Here———————–
Watch us Live on Youtube Here: https://www.youtube.com/user/twistedconnector/
Listen Live on Internet Radio Here: https://w4wn.com/shows/success-secrets-exposed/
Join Our Facebook Group – Success Secrets Exposed Community Here: (To watch the replay) https://www.facebook.com/groups/sallyacurtisshow/
Want to Listen on the RUN!!!
Previous Show as Podcasts available here: https://www.iheart.com/podcast/209-success-secrets-exposed-71813108/
Not to be missed!!
——————————-About Success Secrets Exposed Show————–
What is the Success Secret Exposed Show about?
Success Secrets Exposed is a fun, inspiring and informative show on the secrets of success and the challenging stories behind them.
Sally leads intimate conversations with today's thought leaders, change-makers, disrupters and masters of their inner genius. Bringing you tips, strategies and insightful perspectives on a range of topics shaping our life's and businesses growth, revealing the humaneness of success & challenge.
"Alone we can do so little; Together we can do so much"
– Helen Keller