INNER LATELY ~  TUESDAY, MARCH 10TH @ 10 AM EST:  Beth Lynch and Rev Sharon Shaw will be taking your calls LIVE!
Beth and Sharon will be sharing inspiration from channelings and discussing life, death and everything in between. They inspire their listeners to understand how the power of their spirit influences the conditions around them personally, professionally and physically, and shows them they do have the power within to create the life they deserve! Call in live to connect to the inspiration!
Call in 561-623-9421 * Skype in:  w4wnradioguest  
* Log-in: www.w4wn.com 
Coming next time:
TUESDAY, MARCH 17TH  @ 10 AM EST – Join Beth and Sharon with Special Guest, Author Deborah Lloyd.
Deborah Lloyd is a Usui and Karuna Reiki Master and certified holistic therapy practitioner. She also is a licensed clinical social worker, working with a hospice agency in Asheville, NC. She grew up on a farm in rural Indiana and was stricken with polio at the age of three. To relieve fatigue from post-polio syndrome, she learned Reiki. This complementary technique led her to explore other alternative modalities. Her personal journey, along with life lessons learned along the way, is detailed in her book,Believe and it is True: A Story of Healing and Life Lessons.
FOR MORE, PLEASE VISIT:
"Inner Lately..been there?"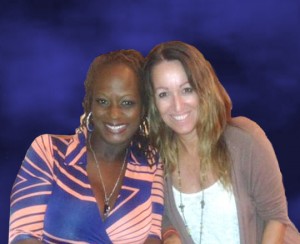 More about Beth & Sharon..
Beth Lynch is a graduate of Delphi University and has been practicing meditation and yoga for over 20 years. She founded Inner Light Teachings in 1998. She is a published author and teaches at the Inner You Wellness Center in Upstate New York. Beth has been featured on numerous radio shows nationwide. Thirty years of curiosity, faith and healing has brought Beth Lynch to fulfilling her purpose and passion. It is her mission to help others understand intuition, healing and the power of love.
Website:www.innerlightteaching.com
Reverend Sharon Shaw-Mh. D is a Divine emissary of love between our world and the spirit realm.  Sharon has dedicated her life to connecting with the spirit realm to bring forth messages of love, enlightenment and healing.  Sharonoffers insight and has the ability to help people become enlightened within their own lives.
Born a sensitive visionary, she is here to help individuals expand to a new level of awareness by liberating you from restriction, restraint, inhibitions of fear and limited perspectives, which will help you to expand into a new level of awareness.  In an effort to share my gifts and help others in their journey, the birth of MERGING SPIRIT became a reality.
Sharon founded Merging Spirit in 2007. Merging Spirit teaches and offers a variety of classes, workshops, relationship building tools and various healing treatments, based on universal laws and spiritual principles. 
Website: www.mergingspirit.com