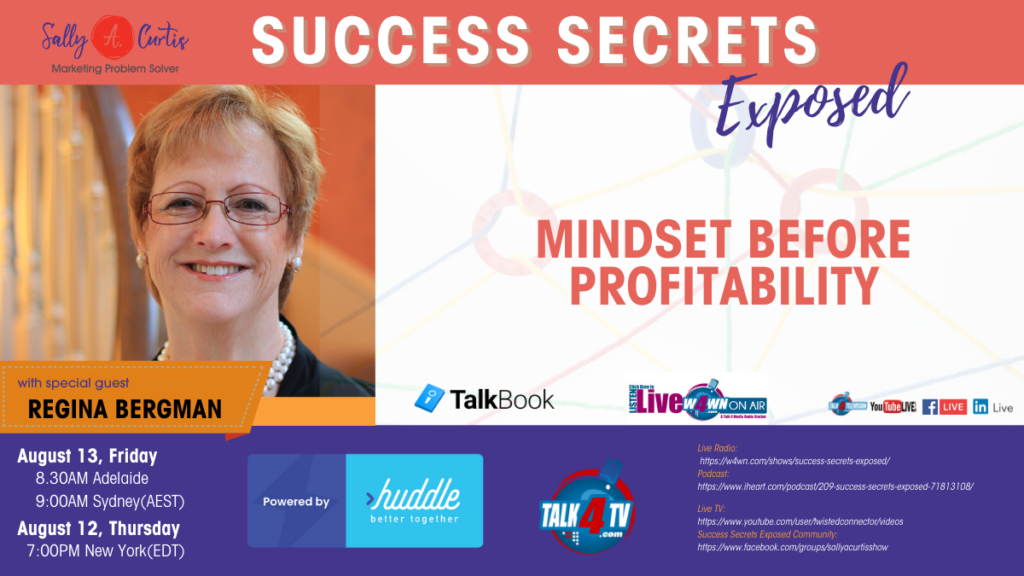 WEEKLY Live Radio Show with Sally A Curtis – "The Success Secrets Exposed" Radio Show & Podcast
Find us here: https://w4wn.com/shows/success-secrets-exposed/
13th August 8.30 am Adelaide, 9 am Sydney Time & Thursday 12th August at 7 pm New York time
———————————Quick Overview——————————————————-
International Best-Selling Author, Speaker, Profit Acceleration and Exit Strategy Specialist Regina Partain Bergman, CEO of Bridgeport Strategy, host of Pursuing Profit with Principles podcast, helps transform businesses, both online and offline, and local economies, while helping entrepreneurs realize their vision of impacting lives and changing the world.
Regina understands the challenges faced by small business owners. After building a business to $4+ million in annual revenue only to see it crash with the 2008/2009 economic downturn, Regina has a passion to see that small business owners get the assistance and resources they need to be successful and to thrive.
———————————Watch and Listen to us Here———————–
Watch us Live on Youtube Here: https://www.youtube.com/user/twistedconnector/
Listen Live on Internet Radio Here: https://w4wn.com/shows/success-secrets-exposed/
Join Our Facebook Group – Success Secrets Exposed Community Here: (To watch the replay) https://www.facebook.com/groups/sallyacurtisshow/
Want to Listen on the RUN!!!
Previous Show as Podcasts available here: https://www.iheart.com/podcast/209-success-secrets-exposed-71813108/
Not to be missed!!
——————————-About Success Secrets Exposed Show————–
What is the Success Secret Exposed Show about?
Success Secrets Exposed is a fun, inspiring and informative show on the secrets of success and the challenging stories behind them.
Sally leads intimate conversations with today's thought leaders, change-makers, disrupters and masters of their inner genius. Bringing you tips, strategies and insightful perspectives on a range of topics shaping our life's and businesses growth, revealing the humaneness of success & challenge.
"Alone we can do so little; Together we can do so much"
– Helen Keller