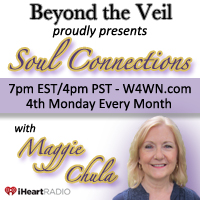 Tonight at 7:00 PM EST on Soul Connections I am excited to welcome a couple of my fellow Best American Psychics to the show. The four of us make up the Master Psychic Team for Monday's with Metatron. Monday's with Metatron is on week 2 for the Beyond the Veil shows on the Women for Women network radio station. This show, Soul Connections is week 4. Tonight is a special show in honor of today being the 5th Monday of the month. You can find us at w4wn.com.
The wonderful women who will be joining me tonight include Julie Geigle, Katherine Glass and Diana Blagdon. Julie is the International Psychic Medium & Spiritual Teacher who channels the Archangel Metatron. Katherine is a Psychic Medium & Healer who has just completed a year of hosting her own TV show 6th Sense, and Diana is a Psychic, Life & Business Coach who owns a wonderful new age shop in beautiful Door County,  Wisconsin.
Tonight we will talk about what we do as psychic professionals. We will talk about how we each got onto the path of working as a psychic, what we do in session and why we love what we do. So please join us at 7:00 PM EST and listen in to a learn more about what it means to be a psychic and how working with a psychic professional can help you move forward in your life. To listen in just go to www.W4WN.com at 7:00 PM EST, turn up the volume on your computer and join us for an very interesting and informative hour.