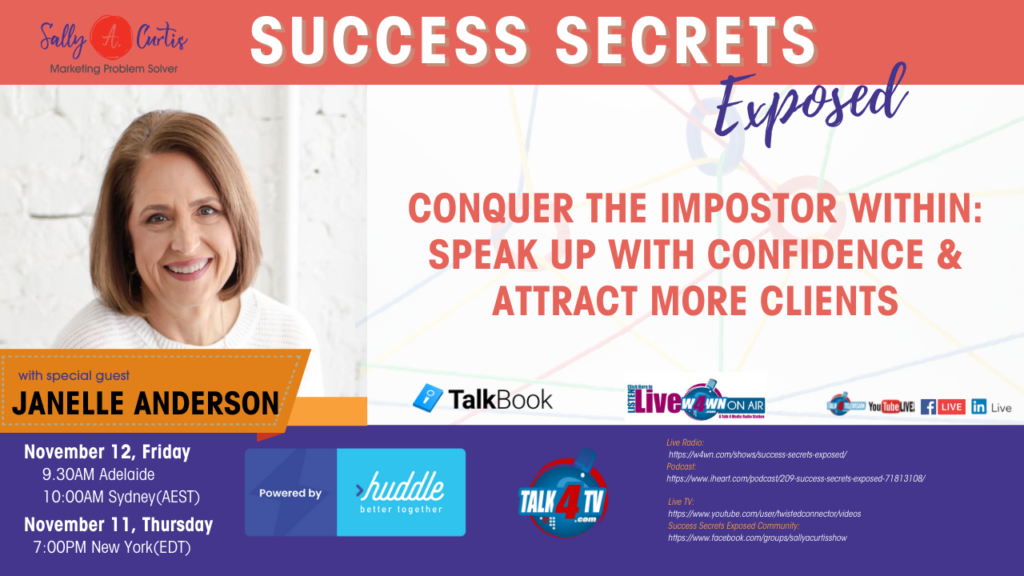 WEEKLY Live Radio Show with Sally A Curtis – "The Success Secrets Exposed" Radio Show & Podcast
Find us here: https://w4wn.com/shows/success-secrets-exposed/
5th November 9.30 am Adelaide, 9 am Sydney Time & Thursday 4th November at 7 pm New York time
———————————Quick Overview——————————————————-
Confidence is a superpower and you can create it from the inside out. Entrepreneurs, women especially, often struggle with impostor syndrome, feeling like they're a fake even though they have the credentials, the expertise, and all the letters after their name. They wonder why it's so hard to just open their mouth and speak up. In this talk, I'll share three top challenges women face with feeling confident in speaking up and the secrets to overcoming these challenges. I will also share a simple exercise called the Confidence Gene Creator that listeners can implement to boost their confidence right away.
———————————Watch and Listen to us Here———————–
Watch us Live on Youtube Here: https://www.youtube.com/user/twistedconnector/
Listen Live on Internet Radio Here: https://w4wn.com/shows/success-secrets-exposed/
Join Our Facebook Group – Success Secrets Exposed Community Here: (To watch the replay) https://www.facebook.com/groups/sallyacurtisshow/
Want to Listen on the RUN!!!
Previous Show as Podcasts available here: https://www.iheart.com/podcast/209-success-secrets-exposed-71813108/
Not to be missed!!
——————————-About Success Secrets Exposed Show————–
What is the Success Secret Exposed Show about?
Success Secrets Exposed is a fun, inspiring and informative show on the secrets of success and the challenging stories behind them.
Sally leads intimate conversations with today's thought leaders, change-makers, disrupters and masters of their inner genius. Bringing you tips, strategies and insightful perspectives on a range of topics shaping our life's and businesses growth, revealing the humaneness of success & challenge.
"Alone we can do so little; Together we can do so much"
– Helen Keller