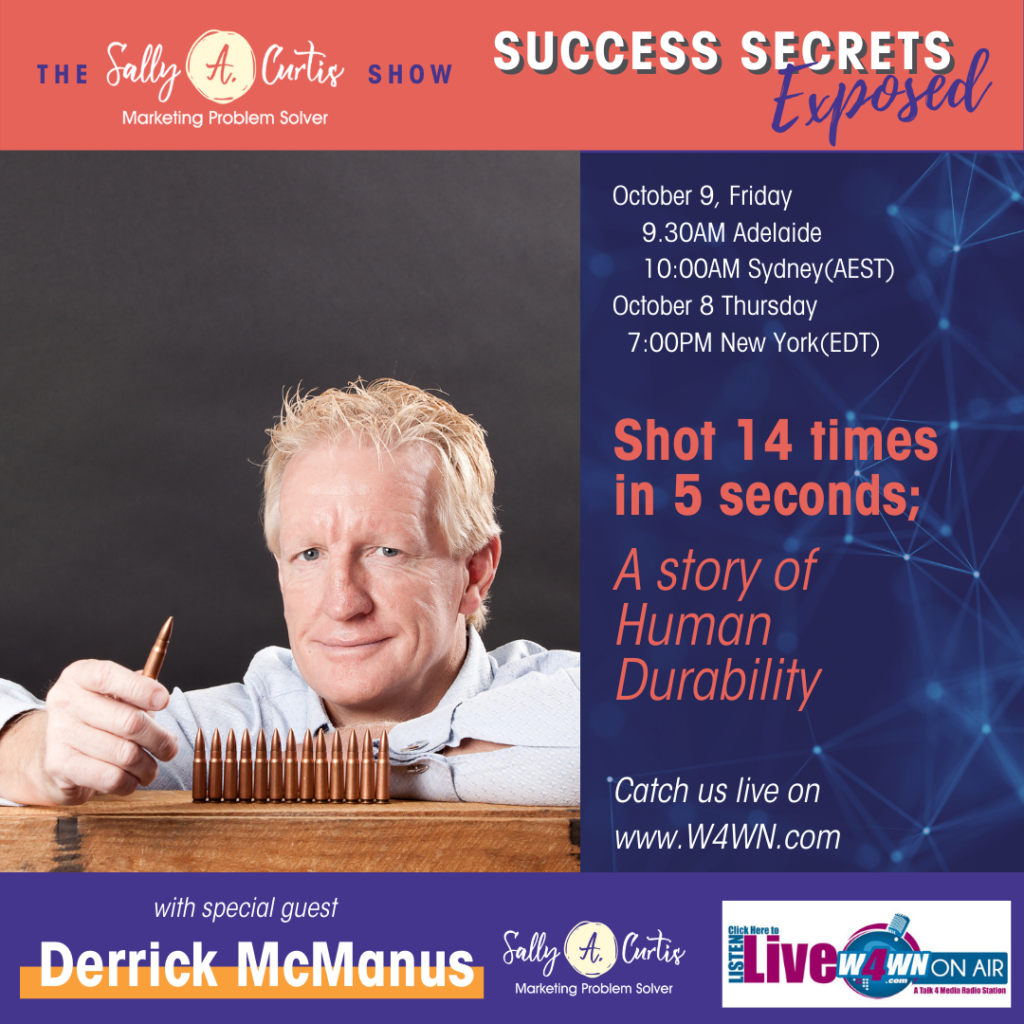 WEEKLY Live Radio Show with Sally A Curtis – "The Success Secrets Exposed" Radio Show & Podcast
Find us here: https://w4wn.com/shows/success-secrets-exposed/
9th October 9.30 am Adelaide, 10 am Sydney Time
& Thursday 3rd September at 7 pm New York time
———————————Quick Overview————————————-
Success Secrets Exposed is a fun, inspiring, and informative show on the secrets of success and the challenging stories behind them.
———Our Guest is Derrick McManus————
Our guest, Derrick McManus will share his "Overcoming Challenges" story titled: "Shot 14 times in 5 seconds; A story of Human Durability"
In 1994 Derrick was shot 14 times in less than 5 seconds with a high-powered semi-automatic rifle. Two years later he returned to full duties.
Derrick's history epitomizes durability, going beyond resilience mental fitness, agility and strength for optimal performance.

Derrick draws on his inspirational history as a former sniper, diver and counter-terrorist operative with the elite SA Police Special Tasks and Rescue (STAR) Group.During a high-risk arrest, he was shot 14 times with a high-powered rifle in less than 5 seconds. He was lying on the ground for 3 hours before he could be rescued.The first doctor to reach him thought he was already dead and later said, "I actually don't know how he survived, he's an incredible human being."

This story is pure inspiration in its own right. Derrick regularly speaks at conferences all around Australia and internationally. Derrick connects with everyone in the room and they understand how this process can be applied to their challenges. This story is a very real and very powerful metaphor for Human Durability.
You can join the conversation at Sally's Radio Show Community on Facebook – https://www.facebook.com/groups/sallyacurtisradio
As promised we would want you to have forward movement so we have given you some valuable and FREE resources to help you grow!
FREE downloads.  Get them now!
Derrick McManus
Shot 14 times in 5 seconds; A story of Human Durability
 gettalk.at/ep12-derrick
Join us this Friday and Listen to meaningful insights that will be imparted by our guests.