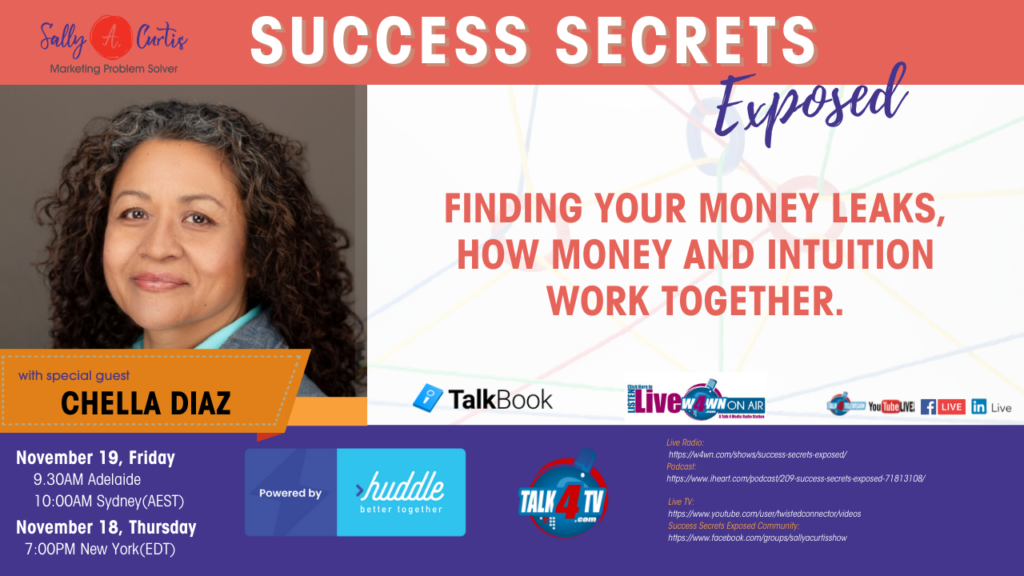 WEEKLY Live Radio Show with Sally A Curtis – "The Success Secrets Exposed" Radio Show & Podcast
Find us here: https://w4wn.com/shows/success-secrets-exposed/
19th November 9.30 am Adelaide, 9 am Sydney Time & Thursday 18th November at 7 pm New York time
———————————Quick Overview——————————————————-
Join us for a discussion on what holds us back from receiving all the abundance we desire in life, learn what our leaks are and how we have the knowing inside us already, to be truly masterful with our money.
A conversation where money & intuition meet with Chella Diaz, who has been hosting workshops to empower people to master their money skills with her simple approaches that will serve you today and for many years to come.
Chella knew at a very young age how to manage money, at 9 years old she would go to the Farmer's market and knew the vendors that had the best produce at the lowest price. She purchased her car at 17 and her first home at 23.
———————————Watch and Listen to us Here—————————-
Watch us Live on Youtube Here: https://www.youtube.com/user/twistedconnector/
Listen Live on Internet Radio Here: https://w4wn.com/shows/success-secrets-exposed/
Join Our Facebook Group – Success Secrets Exposed Community Here: (To watch the replay) https://www.facebook.com/groups/sallyacurtisshow/
Want to Listen on the RUN!!!
Previous Show as Podcasts available here: https://www.iheart.com/podcast/209-success-secrets-exposed-71813108/
Not to be missed!!
——————————-About Success Secrets Exposed Show————–
What is the Success Secret Exposed Show about?
Success Secrets Exposed is a fun, inspiring and informative show on the secrets of success and the challenging stories behind them.
Sally leads intimate conversations with today's thought leaders, change-makers, disrupters and masters of their inner genius. Bringing you tips, strategies and insightful perspectives on a range of topics shaping our life's and businesses growth, revealing the humaneness of success & challenge.
"Alone we can do so little; Together we can do so much"
– Helen Keller