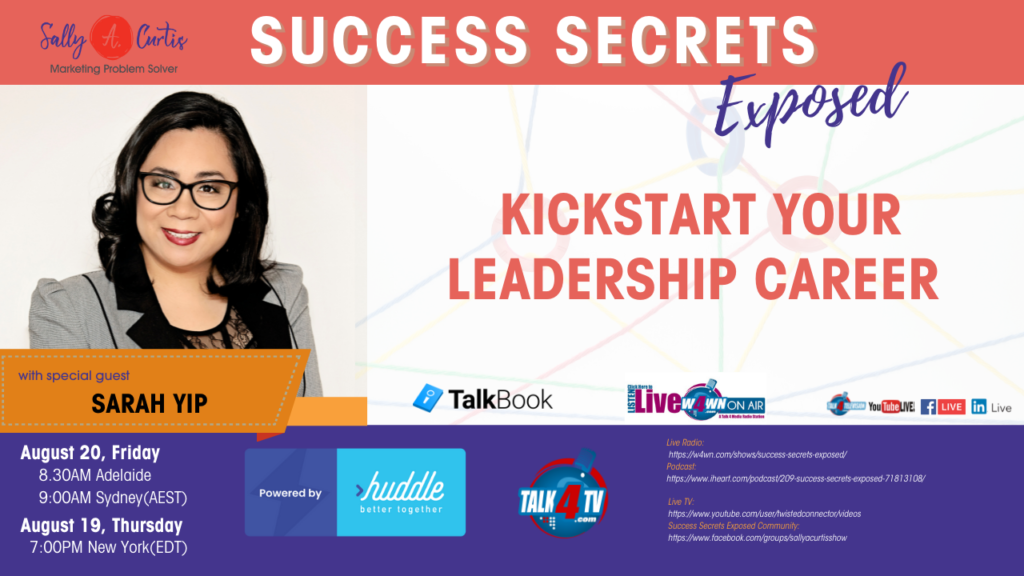 WEEKLY Live Radio Show with Sally A Curtis – "The Success Secrets Exposed" Radio Show & Podcast
Find us here: https://w4wn.com/shows/success-secrets-exposed/
20th August 8.30 am Adelaide, 9 am Sydney Time & Thursday 19th August at 7 pm New York time
———————————Quick Overview——————————————————-
By the time Sarah was 20, she was in a leadership role within one of the Big 4 banks in Australia.
She successfully juggled a dual degree at university & a full time role as the leader of 30 staff
members at one of the busiest branches in Brisbane, Queensland. She was acknowledged with multiple
awards during her time in banking and finance and people would frequently ask: how did someone so young manage to lead so effectively?
Sarah shares with us that for her it always comes back to the fact that she firmly believes that
leadership is not bound by age, gender, status or education. Leadership can happen anywhere, at
any time if you come from a place of service first.
Grab Sarah Yip's – Leadership Lounge Offer
People simply need to head to www.leaderslounge.com.au and select individual membership.Tick the check box "I heard this on the Sally A Curtis radio show" and they will receive access to our masterclass Series: "Stepping up to leadership" the offer is only available redemption until 31st of August 2021
———————————Watch and Listen to us Here———————–
Watch us Live on Youtube Here: https://www.youtube.com/user/twistedconnector/
Listen Live on Internet Radio Here: https://w4wn.com/shows/success-secrets-exposed/
Join Our Facebook Group – Success Secrets Exposed Community Here: (To watch the replay) https://www.facebook.com/groups/sallyacurtisshow/
Want to Listen on the RUN!!!
Previous Show as Podcasts available here: https://www.iheart.com/podcast/209-success-secrets-exposed-71813108/
Not to be missed!!
——————————-About Success Secrets Exposed Show————–
What is the Success Secret Exposed Show about?
Success Secrets Exposed is a fun, inspiring and informative show on the secrets of success and the challenging stories behind them.
Sally leads intimate conversations with today's thought leaders, change-makers, disrupters and masters of their inner genius. Bringing you tips, strategies and insightful perspectives on a range of topics shaping our life's and businesses growth, revealing the humaneness of success & challenge.
"Alone we can do so little; Together we can do so much"
– Helen Keller