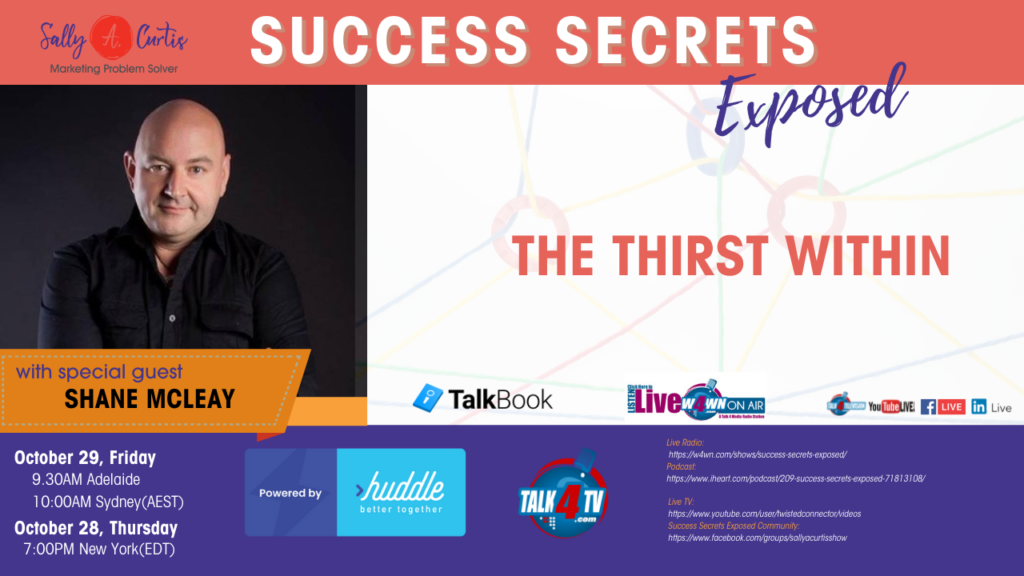 WEEKLY Live Radio Show with Sally A Curtis – "The Success Secrets Exposed" Radio Show & Podcast
Find us here: https://w4wn.com/shows/success-secrets-exposed/
29th October 9.30 am Adelaide, 9 am Sydney Time & Thursday 28th October at 7 pm New York time
——————————–Quick Overview————————————
Shane McLeay is an intimated Shaman, a two time best selling author, mentor, spiritual teacher, and thought leader. His work is all about helping people transition into empowerment, enabling them to live life on their terms.
By applying sacred shamanic teachings and disciplines from around the world, Shane comes from this very unique perspective delivering intuitive insight with an energetic edge that delivers personal empowerment and results.
Shane is renowned for delivering results where others have simply failed.
———————————Watch and Listen to us Here———————–
Watch us Live on Youtube Here: https://www.youtube.com/user/twistedconnector/
Listen Live on Internet Radio Here: https://w4wn.com/shows/success-secrets-exposed/
Join Our Facebook Group – Success Secrets Exposed Community Here: (To watch the replay) https://www.facebook.com/groups/sallyacurtisshow/
Want to Listen on the RUN!!!
Previous Show as Podcasts available here: https://www.iheart.com/podcast/209-success-secrets-exposed-71813108/
Not to be missed!!