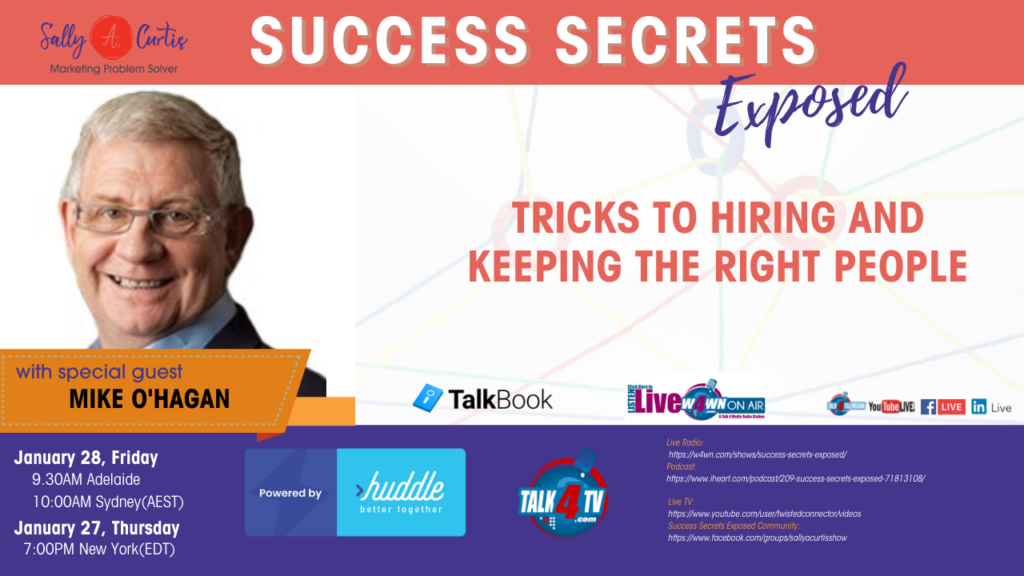 WEEKLY Live Radio Show with Sally A Curtis – "The Success Secrets Exposed" Radio Show & Podcast
Find us here: https://w4wn.com/shows/success-secrets-exposed/
28th January 9.30 am Adelaide, 10:00 am Sydney Time & Thursday 27th January at 7 pm New York time
———————————Quick Overview——————————————————-
There's been a shift in the mindset of workers – worldwide. As a result Staff shortages are an issue for many businesses.
Mike O'Hagan is sharing his tips and tricks when finding, assessing, negotiating, onboarding, and managing people.
———————————Watch and Listen to us Here——————————
Watch us Live on Youtube Here: https://www.youtube.com/user/twistedconnector/
Listen Live on Internet Radio Here: https://w4wn.com/shows/success-secrets-exposed/
Join Our Facebook Group – Success Secrets Exposed Community Here: (To watch the replay) https://www.facebook.com/groups/sallyacurtisshow/
Want to Listen on the RUN!!!
Previous Show as Podcasts available here: https://www.iheart.com/podcast/209-success-secrets-exposed-71813108/
Not to be missed!!