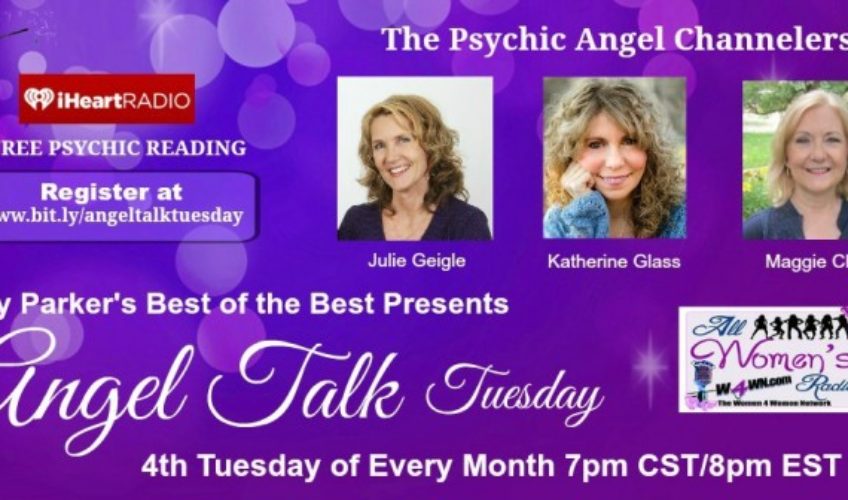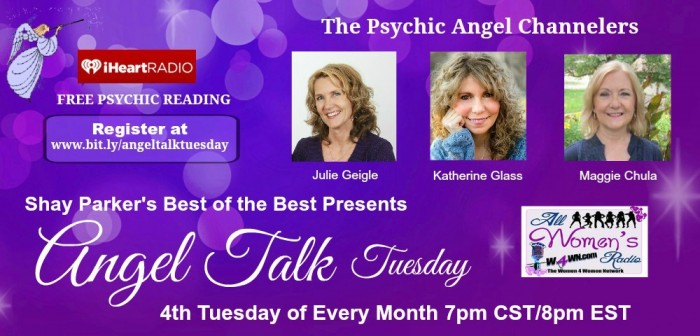 Register for our drawing for a free Psychic Reading at >>https://bit.ly/angeltalktuesday
What would it mean to be able to talk to Angels?
How would that change your life?
Join us tonight for ANGEL TALK TUESDAY at 7pm CST/8pm EST 1-561-623-9421 or  W4WN Radio.  On this episode Archangel Metatron invites us to embrace our ego as it is AWAKENING along with us and shifting into a new frequency. Gaia, Mother Earth, talks about imagining her as a person with feelings and each time we meditate to tune into her energy and allow the love to flow in both directions. Finally Katherine brought in the Galactic energy to reassure us that ALL IS WELL and moving in the right direction.  Finally at the end of the show Julie draws an Angel Card from Doreen Virtue's "Healing with the Angel's Deck" and the card that comes in is POWER.  All three Psychics share a special reading for YOU on taking back your POWER and living more soulfully.
On the 4th Tues of every month, please join International Psychic Medium & Gifted Channel of Archangel Metatron, Julie Geigle as she guest hosts BEST OF THE BEST with Angel Talk Tuesday.
Join Julie and her team of Psychic Angel Channelers, Katherine Glass and Maggie Chula as they directly communicate with the Angelic realm through trance channeling. Angel Talk Tuesday will help you awaken, expand and remember the magnificent being that you are.
Registered participants and members will be randomly selected for a free reading. Be sure to register at >>https://bit.ly/angeltalktuesday
WANTED: 10 Warm & Wonderful Spiritual Seekers Looking for a Transformational Experience
Join us on our next "John of God Spiritual Transformation Healing Retreat" April 4th-16th, 2016. Julie is a Casa Guide, assisting people on a spiritual healing journey through the John of God experience in Brazil.
Learn more about the Psychic Angel Channelers at
Julie Geigle, International Psychic Medium https://www.juliegeigle.com
Katherine Glass, Psychic Medium & Spiritual Healer https://www.katherineglass.com
Maggie Chula, Spiritual Counselor https://www.maggiechula.com