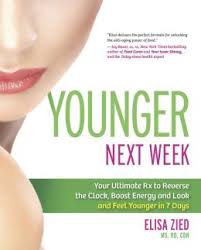 Can you believe it?  Why not?  Want to know how?  Our guest, Elisa Zied, RDN, Writer, Author, Speaker, Spokesperson, Founder/President, Zied Health Communications has written this how-to book, Younger Next Week. She has researched and tested this possibility.  Thanks to her work, you can be younger next week.  Co-Host Lauren Harris-Pincus, RDN, one of the NutritionBabes, has invited Elisa to be in our Family Food Experts Kitchen. I will be all ears.  How about you?
Come into our Family Food Experts Kitchen to join Elisa, Lauren and me as we learn what to do to be younger in 7 days.  Actually, you'll  find out how to eat and move to get there!  Thursday, Dec.26th 1pm ET, on W4WN.com and W4CY.com.
… for the health of your family,
ellen
www.FamilyFoodExperts.com
www.KidKritics.com
www.iHeartRadioTALK.com
If you miss the live show, tune in on Sunday, 1pm ET, W4WN.com.