Jean Anthelme Brillat-Savarin once said, "Dis-Moi Ce Que Tu Manges, Je Te Dirai Ce Que Tu Es." (Tell me what you eat and I will tell you who you are.") Sadly if most people living in the U.S. were defined literally by what they eat we'd have a lot of genetically modified, artificially produced adults and a bundles of sugar babies. When I was diagnosed with breast cancer five and a half years ago I took a hard look at what I was putting into my body, especially when it was no longer receiving infusions of chemo cocktails every few weeks. I wanted to clean out my system from all toxins, including any artificial ingredients and foods. My body thanks me every day for taking steps to make healthier food choices because it is healthy, strong and full of energy.
February 9th I have two authors and food writers on Fearless Fabulous You! to discuss how you can make buy better options in the supermarket, pack your pantry with power foods versus poor packaged alternatives and take smart, simple steps to live greener, leaner and healthier.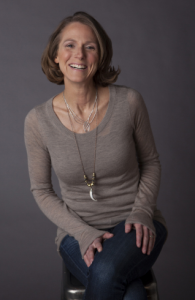 Stefanie Sacks, MS, CNS, CDN is a culinary nutritionist, author, radio show host, educator, speaker and consultant. Studying food and healing for 25 years, Stefanie has her Masters of Science in nutrition education from Columbia University, is a Certified Nutrition Specialist, Certified Dietitian Nutritionist and graduate of Natural Gourmet Institute for Health and Culinary Arts. Her blog, What The Fork Weekly features her Stirring the Pot radio show that airs on Hamptons NPR, WPPB 88.3FM and via podcast. Her book book What the Fork Are You Eating? An Action Plan for Your Pantry and Plate (Tarcher/Penguin Random House) is available wherever books are sold.
She has contributed to several books and is a sought after guest expert on local and national programs. Her print and online media contributions are extensive from Harper's Bazaar, O Magazine and Teen Vogue to The Huffington Post and "Healthy Eats" by The Food Network.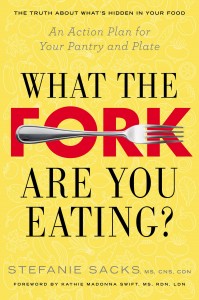 Connect:
https://facebook.com/StefanieSacks
https://twitter.com/stefanie_sacks
https://instagram/com/stefaniesacks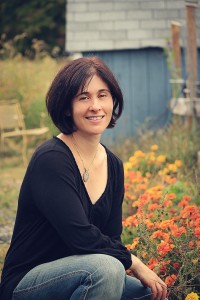 Winnie Abramson creates and photographs seasonally inspired recipes for her blog (healthygreenkitchen.com) in addition to being a freelance food and health writer.  Winnie's first book, One Simple Change: Surprisingly Easy Ways to Transform Your Life, was published by Chronicle Books in 2013.  The book provides 50 small changes that readers can easily make to improve their every day well-being.
Winnie grew up in a food-centric  family. Her parents owned the famed Quilted Giraffe restaurant in New York City when she was growing up, and she spent much of her childhood in the restaurant's kitchen. After college, she studied naturopathic medicine at Seattle's Bastyr University in Seattle, earning her doctorate in 1998. After practicing for several years, Winnie changed gears to raise her family and focus on writing.
Winnie has a black belt in karate and currently trains to compete in powerlifting. She lives in the Hudson Valley with her husband, two kids, and many pets, including a flock of laying hens.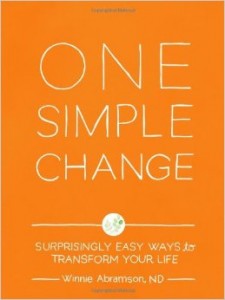 Connect :
https://healthygreenkitchen.com
https://www.facebook.com/HealthyGreenKitchen
https://twitter.com/winnieabramson
https://instagram.com/winnieab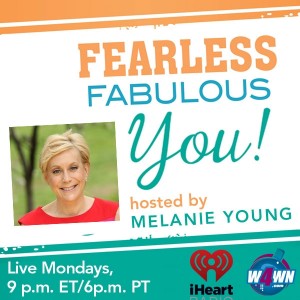 Join Fearless Fabulous You! Host Melanie Young Monday evenings, 9pmET/6pm PT to meet inspiring women and hear from health, wellness and nutrition experts. Live on W4WN.com- The Women 4 Women Network and on demand anytime on www.iHeart.com under Shows and personalities. Melanie is a Holistic Health Coach, Brand Building Specialist and Award Winning Author  of two books: Getting Things Off My Chest: A Survivor's Guide To Staying Fearless & Fabulous in the Face of Breast Cancer and Fearless Fabulous You! Lessons on Living Life on Your Terms. Both by Cedar Fort/Plain Sight Publishing and available anywhere books are sold.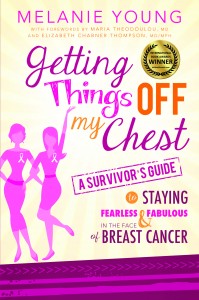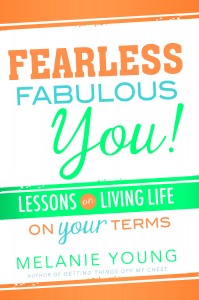 Connect: https://melanieyoung.com
https://twitter.com/melanieyoung
https://facebook.com/FearlessFabulousMelanie