I have a special place in my heart for four kinds of women: Dreamers, Doers, Do-Gooders and Survivors. Judy Pearson and Karen Shayne are all four rolled up into two beautiful bodies of energy with huge hearts and super-sized souls. They are co founders of the Women Survivors Alliance and the annual National Women's Survivors Convention ("Survivorville") and publishers of Nou Magazine.
Their mission is "to establish a network where women affected by cancer can find their voice, improve their quality of life and embrace their second acts."
I met Judy and Karen in 2013 at the National Women's Survivors Convention which takes place at the Gaylord Opryland Resort in Nashville (this year June 5-7). It was their first year organizing this massive effort to empower women cancer survivors, and I attended and debuted my first book, Getting Things Off My Chest: A Survivor's Guide To Staying Fearless & Fabulous in the Face of Breast Cancer. Despite being incredibly busy, I found both Judy and Karen very supportive to this still tender survivor and newly minted author.
The energy and inspiration of the women from around the country I met at that convention and the friendships I formed will stay with me forever. Some of these women have been featured on my radio show, Fearless Fabulous You!  But Judy and Karen have been "moving targets." So I feel lucky to have them join me May 11, 9pm ET, to share their stories and plans for this year's Survivorville.
Many have said having cancer changes your perspective and purpose. I agree. Both Judy and Karen transformed their own experience with cancer to create something special to help others.
Just a quick bio on each:
Judy is an award-winning writer and public speaker from Michigan who's published three books, the first two on stories of survival: "Belly of the Beast: a POW's Inspiring True Story of Faith, Courage and Survival," and "Wolves at the Door: The True Story of America's Greatest Female Spy" (rights to the latter have been purchased for a TV series). She's written numerous magazine and newspaper articles. An advocate for women, Judy founded Courage Concepts, an organization that cultivates courage in women and girls through workshops and lectures.
Judy's breast cancer diagnosis inspired her third book, "It's Just Hair: 20 Essential Life Lessons." It also connected her to fellow survivor, Karen Shayne. The rest is Survivorville History.
Fun fact about Judy: She's fluent in French
Karen has 20+ years experience working as a healthcare administrator where she focused exclusively on development and management of healthcare facilities in Nashville. A survivor of two types of cancer, Karen is an activist and advocate who serves as Survivorship Committee Chairperson for the Tennessee Cancer Coalition and has served as Tennessee State Lead Ambassador for the American Cancer Society Cancer Action Network. Karen's humanitarian work has been recognized by numerous civic organizations and corporations.
Most recently Karen and Judy's efforts toward survivorship awareness was chosen to be a feature story in the American Association of Cancer Research 2014 Cancer Progress Report.
Fun fact about Karen: She has a nice collection of cowboy boots based on what I've see her wearing at the two conventions i attended.
June is National Cancer Survivors Month. I know  Karen and Judy echo all of our hopes that someday the words "You've been diagnosed with cancer" will never have to be spoken again. In the meantime, empowering women who've faced cancer to embrace fulfilling lives on their terms is what drives Judy and Karen to turn survivorship "from a mood to a movement."
Connect:  Twitter    Facebook    Website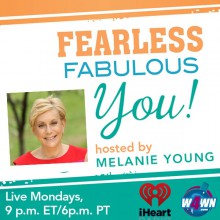 Join Melanie Mondays 9pmET on W4WN – the Women 4 Women Network to hear from inspiring women and experts on healthy living. Listen to podcasts on iHeart anytime, anywhere.
Follow Melanie on Twitter, Facebook and please Share this with friends and tell them to tune in.
https://twitter.com/mightymelanie
https://www.facebook.com/FearlessFabulousMelanie
Link to all shows: https://www.iheart.com/show/209-Fearless-Fabulous-You