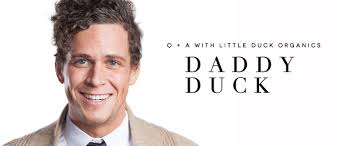 Why does it matter what you feed your babies and toddlers? You are setting a template for the rest of their lives. When I had my first child, I flew to Iceland to live after she was 6 weeks old.  There I was at the mercy of the Naval Base pediatrician who put her on a soy milk formula and then on jarred baby food.  Eighteen years later I gave birth to my second child, and 6 weeks later I flew to Turkey to live. There my son lived on breast milk and then was given the traditional first Turkish food, yogurt.  All his food thereafter was homemade.  You can see the healthy difference between my now grown children.  I wish I had known what I know now when my daughter was born.  What you feed yourself before and during pregnancy, and what you feed your child thereafter sets the stage for short and long term health.  Today, we are going to help right from the start!  Tracee, RD (Real Food Moms) and co-author of Best Food for Your Baby and Toddler will  join me in welcoming Daddy Duck, Zak Normandin, who is so passionate about how his two young girls are fed that he started a company called Little Duck Organics, a food company for babies and toddlers!  If you can't find what you want, than make it yourself is his MOD.
Come into our Family Food Experts Kitchen to meet Zak Normandin, Tracee and me as we spell out how to get it right from the start when you feed your babies and toddlers!  Thursday, November 21st, 1pm ET, on W4WN.com and W4CY.com.
… for the health of your family,
ellen
www.FamilyFoodExperts.com
www.KidKritics.com
If you miss the live show, tune in on Sunday, 1pm ET, W4WN.com.