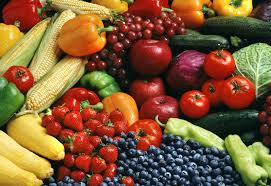 Have you ever thought of food having power? It actually has the power to improve or damage around 100 trillion cells from which all your organs, tendons, bones, blood – all of you are made. That's a lot of power! We are going to focus on which fresh foods make you look healthy, be healthy, fill you with healthy energy and give you a fresh clear productive healthy mind. Our food expert guest, Dawn Jackson Blatner, RDN, food blogger for Huffington Post, advisor to Fitness Magazine, nutritionist for the Chicago Cubs and author of several books, including the Flexitarian Diet, is going to reveal the amazing life-giving power of fresh foods. Along with our co-host Carolina Jantac, RDN (Kid Kritics Approved) she will share some easy delicious recipes so all your cells, and thus you, can be on top of your game!
Come into our Family Food Experts Kitchen to join Dawn, Carolina to me as we   give you the keys to fresh food!Sunday, 1pm ET, onW4WN.com.
… for the health of your family,
ellen

www.FamilyFoodExperts.com
www.KidKritics.com
www.FuelYourDreams.net
If you miss the live show, tune in on Sunday, 1pm ET, W4WN.com.