We're dusting the Spring pollen off our outdoor grill in preparation for our first Memorial Day cookout. In my household my husband, David, mans the grill. This is probably because I haven't taken the time to learn how to turn it on. But, according a 2014 GrillWatch survey by Weber-Stephens Product Co, 25% of Americans who grill are women. I figure it's time to wo(man) up the grill this year to try my hand at grilling.
I've invited my favorite Girl at the Grill, Elizabeth Karmel, to join me May 18 on Fearless Fabulous You! to discuss grilling tips. A native of North Carolina, Elizabeth is a chef, author restaurateur, television personality and entrepreneur who is the Go-To person for all fabulous gals who want to be mistress of the grill. In addition to discuss grilling tips we'll discuss the different styles of barbecue (e.g. Carolina style vs. Tennessee vs. Texas) so you can impress your guests this simmer with your I-Cue.
Her website Girls at the Grill is a helpful resource for tips, recipes and tools for grilling. There's even a section called "Kids at the Grill" for your budding young chef.  She writes a bi-monthly column for the Associated Press called The American Table and is the author of three books: "Taming the Flame: Secrets for Hot-and-Quick Grilling and Low-and-Slow BBQ", "Soaked, Slathered & Seasoned: A Complete Guide to Flavoring Food for the Grill," and " Pizza on the Grill: 100 Feisty Fire-Roasted Recipes for Pizza & More"
Elizabeth is the founding Executive Chef of Hill Country Barbecue Market in New York and Washington, DC and Hill Country Chicken in New York. And she is co-founder of CarolineCueToGo.com, an "online barbecue shack" e-commerce site specializing in North Carolina whole-hog barbecue seasoned with her own signature Lexington-Style Vinegar Barbecue Sauce.
As a sought after media personality, Elizabeth is frequently featured in an array of national magazines from Bon Appétit to Better Homes & Gardens, and was named one of the top 100 chefs by Saveur magazine. She appears regularly on all three network morning shows and is a guest judge on Chopped and Iron Chef. She has appeared on a number of Food Network shows and hosted her own special on The Cooking Channel.
Connect:
https://www.elizabethkarmel.com/
https://www.facebook.com/ElizabethKarmel
https://www.girlsatthegrill.com/
https://twitter.com/CarolinaCueToGo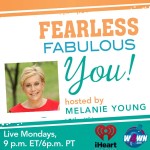 Tune in Live Monday, May 18, 9:28 pm ET on W4WN.com – the Women-4-Women Network. Fire off some questions for Elizabeth. to me at my Facebook Page or or Tweet me @mightymelanie.
Here's the direct link: https://www.facebook.com/FearlessFabulousMelanie)
All my shows are podcast on iHeart.com and the iHeart APP for you to tune in and download anytime. Here's the direct link. Just scroll down and click the episode you want to hear:
https://www.iheart.com/show/209-Fearless-Fabulous-You