Share this:
In the early 1990s, fashion industry executive Ann Odgen Gaffney found herself cooking and caring for a designer in the industry fighting AIDS, The experience taught her to be fearless which was especially helpful when she was diagnosed with kidney cancer in 2001. Fortunately, Ann recovered following her surgery and her life went back to a new normal….well, sort of. A second diagnosis of unrelated breast cancer came later and was a more difficult journey with surgery, chemotherapy and radiation.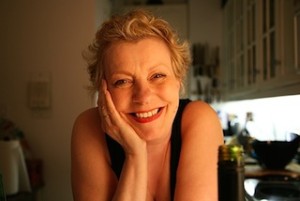 Poor nutrition is pervasive in 50 to 80 percent of all cancer patients. 30 percent of all cancer related deaths are due to severe malnutrition. (www.meals-to-heal.com) Learn more about cancer nutrition at the National Cancer Institute website.
Cook For Your Life's programs have received funding from the National Institutes for Health (NIH), Aetna and Susan G. Komen and have been embraced by organizations such as Columbia University's Mailman School of Public Health, Mount Sinai Health System, Atlantic Health System and American Cancer Society's Hope Lodge in New York City.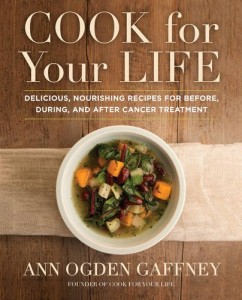 Ann's vision is now a new book, Cook for Your Life: Delicious, Nourishing Recipes for Before, During and After Treatment (The Penguin Group/Avery Books). She joins me October 5, on Fearless Fabulous You! to discuss Cook For Your Life's programs and share recipes. Live 4pmEST on W4WN.com and on demand for free on iHeart.com and the iHeart App. Or cut and paste this link: https://www.iheart.com/show/209-Fearless-Fabulous-You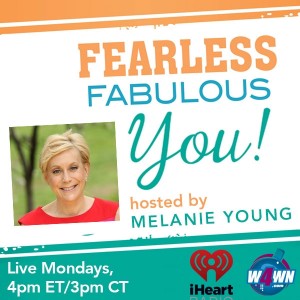 Fabulous Recipes: Cook for Your Life's Pumpkin Oatmeal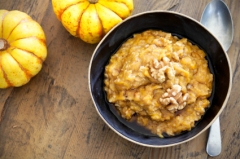 Suggested for: Easy to Swallow | Fatigue | Healthy Survivorship | In Chemo| In Radiation| Nausea | Neutropenic Diet Dairy Free | Healthy Comfort | Kid-Friendly | Quick and Easy |Sweet Treat | Vegan | Vegetarian
Method:
In a medium saucepan, whisk together the pumpkin puree, milk, raisins, pumpkin pie spice and salt until smooth. Bring to a boil.
Add the oatmeal, then turn down the heat to a simmer and cook, stirring occasionally, until the oats are tender, about 8 minutes.
Serve topped with pecans and a drizzle of maple syrup.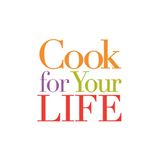 Connect with Cook for Your Life:
Website  Twitter   Facebook   YouTube
Books by Melanie Young