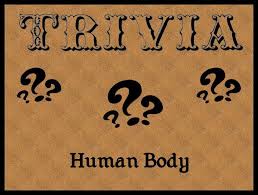 Did you know that your brain generates more energy (electric impulses) in one day than all the cell phones on the planet?  How about the fact your heart contracts more than 100,000 times a day to push blood through about 60,000 miles of blood vessels!  And there's more, about 30-40,000 dead cells fall off your skin daily; news ones are busy replacing them.  Our human body is miraculous! Guest, Dr. Heather Manley (Naturopathic Physician) will share a whole bunch of fun facts about your body, all designed to inspire you to be in awe and motivate you to feed it what's needed for yours to be healthy.  You become what you eat. Your children become what they eat. Knowledge is Power – power up with some human body trivia. Of course we'll share some power recipes, too!
Come into our Family Food Experts Kitchen to join Dr. Heather and me as we give you the scoop on what makes your body tick today and tomorrow!  Thursday, 1pm ET, on W4WN.com and W4CY.com.
… for the health of your family,
ellen
www.FamilyFoodExperts.com
www.KidKritics.com
www.FuelYourDreams.net
If you miss the live show, tune in on Sunday, 1pm ET, W4WN.com.