Walking the aisles of the Specialty Food Association's Summer Fancy Food Show this year I was on the prowl to find healthy and delicious foods made by people with an inspiring story and mission. I found it in Shauna Martin, Founder of Daily Greens™.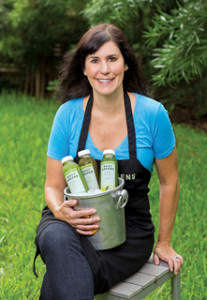 Shauna is a breast cancer survivor. She was diagnosed on July 28, 2004, at the age of 33, the date of her son's birthday. Just three weeks later her younger sister, Tamara, was also diagnosed with breast cancer at the age of 31. Two sisters are diagnosed at an early age with breast cancer with no family history. How could that be? Both sisters tested negative for the BRCA genetic mutations. Doctors told them they probably would never know the cause. But, trust me, you always wonder why.
Shauna wondered about the environment she grew up in. Living in Puerto Rico and Arkansas she enjoyed fresh vegetables from local farms and gardens. Her grandmother always said, "Make sure to wash off the poison!" Could it be the chemicals sprayed on the plants she wondered? While many may link certain cancers and other illnesses to exposure to pesticides and herbicides and tainted food supplies, the issue is still a "hot potato" in medical science and big business. A common statement is "More research is needed to establish scientific based evidence and a direct correlation." However, digging around you'll find information like this and you can't help but wonder:
The National Cancer Institute Agricultural Health Study

However, compared with the general population, the rates for certain diseases, including some types of cancer, appear to be higher among agricultural workers, which may be related to exposures that are common in their work environments. For example, farming communities have higher rates of leukemia, non-Hodgkin lymphoma, multiple myeloma, and soft tissue sarcoma, as well as cancers of the skin, lip, stomach, brain, and prostate.

Even though no one set of risk factors explains these higher cancer rates, the range of environmental exposures in the farming community is of concern. Farmers, farm workers, and farm family members may be exposed to substances such as pesticides, engine exhausts, solvents, dusts, animal viruses, fertilizers, fuels, and specific microbes that may account for these elevated cancer rates. However, human studies reported to date have not allowed researchers to sort out which of these factors may be linked to which cancer types.
Back to Shauna's story:  Both sisters went through multiple surgeries and aggressive treatment and: bilateral mastectomies, reconstruction, chemotherapy, hormone therapy. At age 39 Shauna had surgery to remove her ovaries to reduce the risk of both a recurrence and ovarian cancer, putting her into premature menopause. Sounds like a lot to handle at such a young age, right?  While fewer than five percent of women under the age of 40 are diagnosed with breast cancer it can be a faster growing cancer which can result in more aggressive treatment. Read more here on the Susan G. Komen website
The picture of health before her diagnosis, Shauna embarked on a journey to learn everything she could about healthy eating to rebuild her body and reduce her risk of recurrence or another cancer. (This sounds familiar!). She read; she studied and she made changes to her diet and lifestyle. One change was becoming vegan. The other was to drink more freshly made fruit and vegetable juices. Shauna liked the results: more physical and mental energy, glowing skin, a managed body weight and overall feeling of better well-being.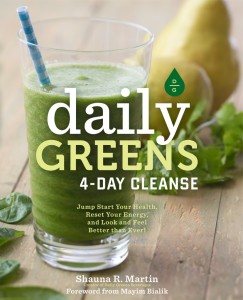 Shauna has turned her lifestyle changes and choices into a book (Daily Greens™. 4-Day Cleanse) and business (Daily Greens™ cold pressed juices and plant based protein drinks) as well as a personal mission to help others diagnosed with breast cancer through the Pink Ribbon Cowgirls in Texas where she now calls Austin home. A percentage of her sales supports a number of breast cancer charities including the Young Survivors Coalition and Breast Cancer Resource Center.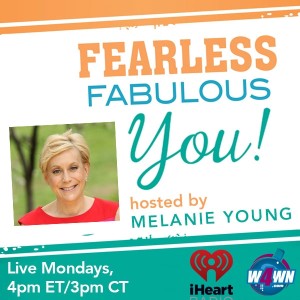 Hear from Shauna Martin Monday, July 27, 4pm EST on Fearless Fabulous You! on W4WN– the Women 4 Women Network and iHeart Radio. Link: www.iheart.com/show/209-Fearless-Fabulous-You.
Connect with me on Twitter@mightymelanie and Facebook/FearlessFabulousMelanie
Connect with Shauna Martin:
https://www.facebook.com/drinkdailygreens
https://twitter.com/drinkgreens