When I was undergoing breast cancer treatment in 2010 a friend gave me a copy of Rebecca Katz's award winning book, The Cancer Fighting Kitchen. It remains one of my favorite books to refer to for healthy cooking and nurturing, nourishing recipes.  Rebecca's newest book is The Healthy Mind Cookbook: Big-Flavor Recipes to Enhance Brain Function, Mood, Memory and Mental Clarity.  Her co-author, as with four of her books, is the award winning science, health and sports writer, Mat Edelson (The Cancer- Fighting Kitchen, The Longevity Kitchen, One Bite at a Time and The Healthy Mind Cookbook.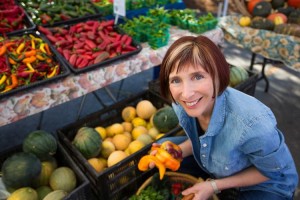 Rebecca joins me on Fearless Fabulous You! March 9th to discuss how she harnessed the latest  research on brain science  to identify the foods that can help improve the brain's function ability to control cognition, emotion and physical function. We'll discuss Rebecca's simple approach called FASS- which stands for fat, acid, salt and sweet- to create flavorful, perfectly balanced recipes.
We'll also discuss Rebecca's choice to transition from stressed out corporate executive to  lead a more nourishing life and become- in her words and also the name of her first science-based book, A Culinary Translator. 
She received her formal training at the Natural Gourmet Institute and obtained a Masters of Science in Health and Nutrition from Hawthorn University. Along the way Rebecca became Executive Chef for Food as Medicine. Today, in addition to writing books and articles and speaking on the subject of food and nutrition, Rebecca is founder and director of the Healing Kitchens Institute at Commonweal in Bolinas, CA, and is working on a platform dedicated to educating individuals and communities about the power of food as medicine and nourishment.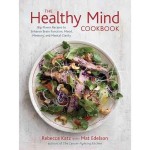 Please send any questions you have for Rebecca to @melanieyoung.com or tweet to me @mightymelanie
Connect with Rebecca:
https://twitter.com/RebeccaKatzYum
https://www.facebook.com/pages/Rebecca-Katz/274759209292766
https://instagram.com/rebeccakatzyum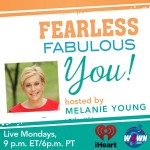 Join Melanie Young Mondays, 9pm ET/6pm PT live on Fearlesss Fabulous You! on W4WN.com. Listen to all shows anytime, anywhere on demand at iHeart.com. Each week Melanie brings you inspiring women and experts on health, wellness and nutrition.  A certified holistic health coach, Melanie is author of two books: Getting Things Off My Chest: A Survivor's Guide to Staying Fearless and Fabulous in the Face of Breast Cancer and Fearless Fabulous You! Lessons on Living Life on Your Terms, both published by Cedar Fort.
Link to all Fearless Fabulous You! iHeart.com shows:
 https://www.iheart.com/show/209-Fearless-Fabulous-You
Connect with Melanie:
https://www.facebook.com/FearlessFabulousMelanie
https://www.twitter.com/mightymelanie